March 28, 2013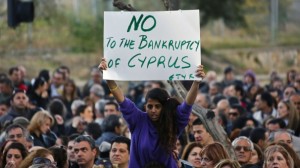 In the wake of an acute financial crisis, the government of Cyprus has decided to force bank-account holders to help pay for the rescue of the Mediterranean island's debt-ridden banks, a measure that would lead to a loss of more than $130 million for the Orthodox Church.
To raise enough funds for Cyprus to qualify for $12.9 billion in bailout loans for its stricken banking sector, the country's Laiki Bank will close, and its good assets will be absorbed by the Bank of Cyprus, The Associated Press reports, adding that the government has agreed to confiscate 40 percent or more from the biggest, uninsured accounts above $130,000 to help pay for the rescue.
The Orthodox Church of Cyprus alone has calculated losses of over $130 million of its capital. "The capital owned by the Church, worth over 100 million euros [roughly $130 million], is lost," ANSAmed quoted Archbishop Chrysostomos II as saying. "There will be more difficulties, some will lose their jobs, the poor will multiply and we will have to take care of people."
The country's banks, which had been shut since March 16, reopened Thursday, though with strict restrictions on transactions.
Controls on financial transactions, imposed to prevent worried savers and businesses rushing to withdraw all their money, include limiting cash withdrawals to $383 per day per person and limiting payments abroad to $6,400. No checks can be cashed, although they can be deposited in bank accounts, and travelers leaving the country can only take up to $1,280 with them in cash.
The Finance Ministry says the restrictions will be reviewed daily and are initially in place for seven calendar days.
The stock market, also closed since March 16, remained closed Thursday.
"The Central Bank decided on some limitations, so we are sure that slowly, slowly we are going back to functioning of the banks without serious problems," the head of the parliament, Yiannakis Omirou, was quoted as saying. "Some problems I'm sure will be created but our people are ready to overcome the difficult moments we are passing."
Cyprus' financial crisis, which reached a critical stage shortly after the new Cypriot president, Nicos Anastasiades had taken office, could be seen coming since Greece had to write down the value of its government bonds. At the end of 2011, the Bank of Cyprus had $14 billion tied up in Greek debt, while Laiki Bank had more than $24 billion, according to Reuters.
Earlier this week, Archbishop Chrysostomos recommended Cyprus prepare to abandon the euro. "The euro cannot last," he told a Greek newspaper. "I'm not saying that it will crumble tomorrow, but with the brains that they have in Brussels, it is certain that it will not last in the long term, and the best is to think about how to escape it," he said.
Chrysostomos added it's not easy "but we should devote as much time to this as was spent on entering the eurozone."
Source: ChristianPost.com