Russian Orthodox priests are conducting services to pray for the victims.
The flight was bringing holidaymakers back to Russia's second largest city Saint Petersburg when it went down in Egypt's Sinai, with international experts now at the scene trying to discover the cause of the tragedy.
President Vladimir Putin has declared a nationwide day of mourning on Sunday for the 224 victims, and authorities in St. Petersburg, home to most of the victims, ordered the mourning to last for three days.
The government said it would pay compensation to the victims' families and help organise funeral procedures. The Emergencies Situations Ministry said it will start delivering the victims' bodies to Russia later on Sunday.
"Can you imagine, people came (here) to pick up their children, grandchildren, only to find out that they no longer exist," said Galina Grigoryeva, 34, one of many people who brought flowers to a makeshift memorial near the arrivals area at Saint Petersburg's Pulkovo airport.
"When I found out about this, I just cried," she told AFP, her five-year-old in tow with a cuddly toy for the memorial to honour the children who died, some as young as 10 months. Flags were at half mast on the parliament building, in the Kremlin, and on other official buildings in honour of the victims, most of whom were from Saint Petersburg and its surrounding region.
Authorities set up a crisis centre at a hotel near the airport where relatives of the victims were invited to provide DNA samples and psychologists were on call.
Russia's state-owned rolling news channel Rossiya 24 periodically interrupted coverage with moments of silence and flashed photos of smiling crash victims apparently taken on their holiday and posted on social networks. Some people had been on their first foreign holiday, some had never flown before, and one couple was on their honeymoon, the channel said.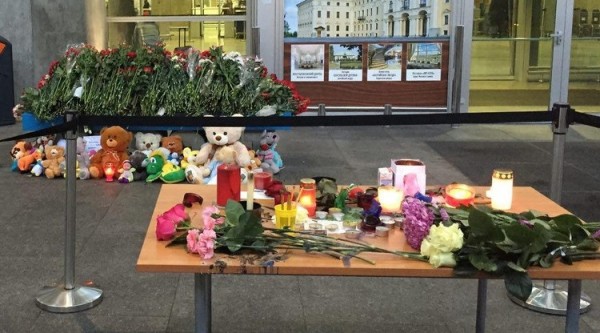 "Many of us could have been on this plane, and this tragedy cannot leave any of us indifferent," Patriarch Kirill of the Russian Orthodox Church said as he led one of religious services held Sunday in the victims' memory.
The Vatican says Pope Francis is offering "the assurance of his prayers" for those who died in the Russian plane crash in Egypt's Sinai Peninsula.
It said in a statement that Francis "learned with sadness about the tragic crash" and in a telegram conveyed his condolences to Russian President Vladimir Putin and the Russian people. Francis is also praying for those mourning the loss of their loved ones.
Germany's transport ministry has warned the country's airlines to avoid flying over both the northern and southeastern parts of the Sinai Peninsula following the crash of a Russian passenger plane.
A spokesman said that, because of Saturday's plane crash in Sinai that killed 244 people, the ministry has issued "until further notice a broad warning … for using flight routes in the southeastern Sinai."
The spokesman, who didn't give his name in line with department policy, said his agency already had an existing flight warning for northern Sinai, where Egypt is fighting an Islamic insurgency.
German carrier Lufthansa, Air France and the Dubai-based Emirates have all announced they will no longer fly over the Sinai until the cause for the plane crash had been identified.
Russia's Emergencies Ministry says it has sent more than 100 emergency workers to Egypt's Sinai Peninsula to help search for bodies and examine debris following the crash of a Russian passenger jet.
The Emergencies Ministry said its emergency teams were being accompanied by the Egyptian military through the restive northern Sinai, where Egypt is fighting an insurgency.
Russian officials say the rescue teams need to comb 16 square kilometres to search for victims' bodies and plane wreckage.
Russia's air safety regulator has ordered the airline whose charter jet crashed in Egypt to suspend flights pending the probe.
Rostransnadzor, Russia's transport safety watchdog, on Sunday told Metrojet to ground its fleet of Airbus A321s following Saturday's crash.
Metrojet's A321-200 crashed in the Sinai Peninsula 23 minutes after taking off from the Red Sea resort of Sharm Al Sheikh, killing all 224 people on board. The victims were all Russians except for four Ukrainians and one person from Belarus.
The air safety agency said Metrojet needs to thoroughly analyze the situation and weigh all risks before a decision is made Monday on whether to allow the airline to resume flights.
Hundreds of people are bringing flowers and pictures to St. Petersburg's airport to commemorate the 224 victims of the Russian plane crash in Egypt.
Elena Vikhareva, 48, came on Sunday with her son to lay flowers, saying "pain is piercing her heart" even though she had no relatives on the plane. Vladimir Povarov, 19, brought flowers with a friend, saying "we couldn't remain indifferent."
Other people were bringing planes made of paper, soft toys and pictures of the victims.
The Airbus A321-200 charter jet heading to St. Petersburg crashed Saturday in the restive Sinai Peninsula, killing all 224 aboard, most of them Russians. It went down 23 minutes after taking off from Egypt's Red Sea resort of Sharm el-Sheikh.
An Egyptian official who inspected the plane says it was in good technical condition before it crashed 23 minutes after taking off from the Red Sea resort of Sharm Al Sheikh.
France's BEA accident investigation agency is involved because the Airbus A321-200 jet was designed in France. A BEA official said the team, including two BEA investigators and six technical advisers from Airbus, was arriving Sunday.
The BEA said the team would be joined by two investigators from its German counterpart BFU, because the plane was manufactured in Germany, and four investigators from its Russian counterpart MAK, because the plane was operated by a Russian company.
An Egyptian ground service official who examined the Russian passenger plane that crashed Saturday in the Sinai Peninsula before takeoff says it appeared to be in good condition.
The official spoke on condition of anonymity because he was not authorised to speak to the media.
A Russian TV channel on Saturday quoted the wife of the co-pilot as saying her husband had complained about the plane's condition.
Another Egyptian official had previously said that before the plane lost contact with air traffic controllers the pilot had radioed and said the aircraft was experiencing technical problems and that he intended to try and land at the nearest airport.
A local affiliate of the extremist Daesh group claimed it "brought down" the aircraft, but Russia's transport minister dismissed the claim.