And when He had called the people unto Him with His disciples also, He said unto them, Whosoever will come after Me, let him deny himself, and take up his cross, and follow Me. For whosoever will save his life shall lose it; but whosoever shall lose his life for My sake and the gospel's, the same shall save it. For what shall it profit a man, if he shall gain the whole world, and lose his own soul? Or what shall a man give in exchange for his soul? Whosoever therefore shall be ashamed of Me and of My words in this adulterous and sinful generation; of him also shall the Son of man be ashamed, when He cometh in the glory of His Father with the holy angels. And He said unto them, Verily I say unto you, That there be some of them that stand here, which shall not taste of death, till they have seen the kingdom of God come with power (Mark 8:34-9:1).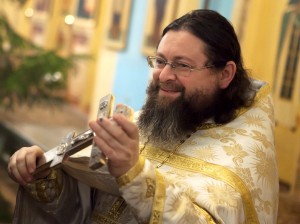 A Protestant friend one said to me with slight reproach: "How easy it must be to be Orthodox! When somebody sins, he repents, and then goes on sinning. He goes to church, writes commemoration sheets for the living and the departed, puts up a candle – and all's well. But out there – live as you will!"
It is difficult to object to this. For many of us, this is how things really are. We have a cross around our neck, Psalm 90 in our pocket, icons in the corner, and a lampada hanging in front of them. Everything is perfectly Orthodox. When a feast day arrives we go to church, then have a meal (or, more often, we just have a meal). On Theophany we take holy water home, and on Pascha we dye eggs.
If this were indeed Orthodox Christianity, then those who consider it to be a distortion and perversion of Christianity would be right. But, glory be to God, this is not Orthodoxy. As infinitely precious as the rituals, customs, and all external forms of piety are to us, they are not the main things. The main thing in Orthodoxy is Christ. The closer we are to Him, the better we know Him, the more we trust in Him, the more faithful we are to Him – the more Orthodox we are.
Being Orthodox means being a follower of Christ. The Church reminds us of this in the middle of Great Lent, when the Lord's Cross is brought into the middle of the church and when the Savior's forceful words resound at the Liturgy: Whosoever will come after Me, let him deny himself, and take up his cross, and follow Me (Mark 8:34).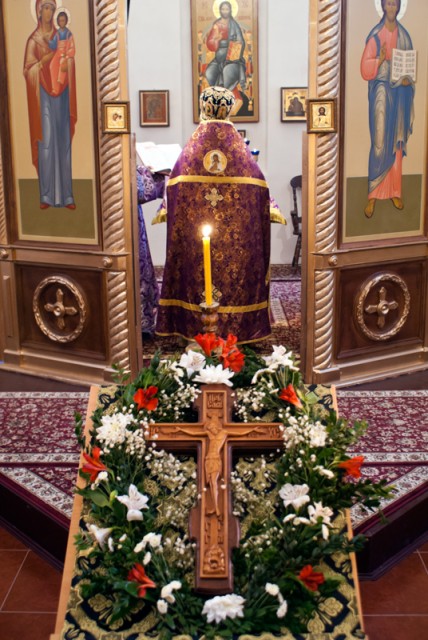 Whosoever will come after Me… But who does not want to? Many people do not! No unbelievers want to, and there is nothing surprising in this. What point is there in following Him if you do not believe in Him? But do we, believers, want to follow Christ? Now is the time to ask ourselves this question again, at the halfway point to the Resurrection: Do I want to follow Christ? Do I follow Him? In response, we all would likely fall into three categories: those who do not want to; those who want to, but do not succeed; and those who in fact follow Him. The first are not Christians at all, although they may call themselves so. The third group is the saints. But the majority of us are in the middle, among those who want to, but do not manage; who try, but do not make it.
Christ is dear to us, we are thrilled by reading the Gospels, and we are delighted with the saints. Christ's commandments are not empty phrases for us, but truly the words of eternal life (John 6:68). But, still, the desire to be a true Christian goes no further. Why? St. Seraphim of Sarov explained: "We lack resolve."
But what do we need resolve for? How can we start following Christ? The Lord answers: "Deny thyself!" How? After all, we so love ourselves, we so cherish ourselves, we take such trouble over ourselves, we feel so sorry for ourselves! And now: deny ourselves? Do we really need to stop loving ourselves? Is this possible?
I think that we need both to love ourselves and, moreover, to respect ourselves – but with proper, true love. I know that the image of God is within me, as is that which distorts it. I know that I am so spoiled, weak, and imperfect that the image of God in me is almost indiscernible through all these layers of corruption, and that these layers are so abundant and so prominent that it seems as if that is all there is to me. My authentic "me," which is beautiful and Godlike, is concealed and forgotten – but it, too, needs to be loved and respected; it, too, needs to be cleansed and restored to its original integrity and beauty. Therefore we need to deny everything that sticks to the soul and brings it down into the fallen world, lying in wickedness. We need to hate selfishness, egoism, and all the vain things that close heaven to us and draw us down to earth.
Denying myself means understanding that not everything within me is "me." It means understanding that we can either dedicate our life so that Christ would triumph, shine, and be manifest in us, or we can remain the way we are now. We can either deny ourselves as we are now – corrupt, self-loving, passionate – or we can deny Christ. We often want to have it both ways: to be to be with Christ and with our vices. We deceive ourselves, saying as it were: "Tomorrow, Lord, I will try to be the way You want me to see me. But as for today, please allow me to remain the way I am now." But on the last Sunday before Lent we heard the Apostle Paul's appeal: now it is high time to awake out of sleep (Romans 13:11). But if we are still saying "tomorrow, tomorrow," then let us, as the Church venerates the Cross, say at last: "Today."
"Today, Lord, I will begin to live not for myself, but for Thee and for my neighbor; today I will deny myself, take up my cross, and follow Thee." Amen.
Translated from the Russian.