Тhe waters destroyed nearly everything inside the homes, now stripped bare and awaiting repairs to the walls and floors.  Heavy rains throughout the summer hampered recovery efforts in many areas of Serbia and Bosnia. Repair work to homes is now being stepped up in anticipation of the onset of winter weather in the coming months.
Many of Grdica's survivors were displaced from their native Kosovo and struggling to make ends meet, or are elderly farmers on limited incomes.  Numerous residents of the village also suffered damage to their homes after a devastating 2010 earthquake and now lack additional resources to rebuild their homes again.
International Orthodox Christian Charities (IOCC), in close cooperation with the Serbian Orthodox Patriarchate and Red Cross of Serbia, is responding to the needs of the most vulnerable flood survivors in the region.
With a generous donation of $50,000 AUD from the Metropolitanate of Australia and New Zealand of the Serbian Orthodox Church, in partnership with Red Cross of Kraljevo IOCC is assisting 60 vulnerable families living in remote villages by providing them with home repair kits containing construction materials such as cement, lime, white paint, plaster, and tools to help restore their homes back to a safe and livable condition.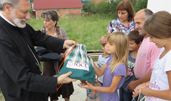 His Grace Bishop Irinej of the Serbian Orthodox Metropolitanate Australia and New Zealand visited the village of Grdica where he met with more than two dozen of the affected families receiving assistance, and to witness the progress of the activities.  During his visit, Bishop Irinej also distributed school kits from IOCC to the children of the families visited. The school supplies such as notebooks, pencils and rulers will provide these children with the tools they need to continue their education in the new school year.