April 15, 2013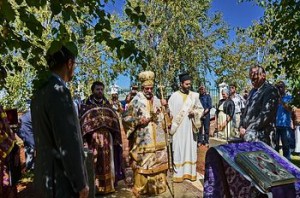 On Sunday April 14, 2013, Archbishop Damascen of Johannesburg and Pretoria served a Divine Liturgy in the Church of St. Sergius of Radonezh with the Rector, Priest Daniel Lugovoi, concelebrating. After the Liturgy, the service for founding of the Chapel of Holy Prince Vladimir, Equal-to-the-Apostles, was celebrated.
The chapel is being founded with blessing of his Holiness Patriarch Kirill of Moscow and all Russia in memory of Russian volunteers killed during the Anglo-Boer war of 1899-1902. The architect of the Chapel is Yury Kirs who also designed the Church of St. Sergius of Radonezh. M.I. Petrakov, ambassador of the Russian Federation, and D.I. Grigoriev, a representative of the Norilsk Nickel company, took part in the founding of the Chapel.
After the event the common meal took place in the parish center. Ambassadors of the Ukraine, Belorussia, Greece, Cyprus and Serbia, numerous parishioners and the parish' guests took part in the festive events, reports the Website of St. Sergius parish.
Source: Pravoslavie.ru