April 23, 2013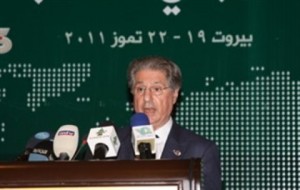 Phalange Party leader Amin Gemayel contacted on Tuesday caretaker Syrian National Coalition leader George Sabra to address the abduction of Syriac Orthodox Archbishop of Aleppo Youhanna Ibrahim and Greek Orthodox Metropolitan of Aleppo and Iskanderun Boulos al-Yaziji in Syria on Monday.
He urged "immediate Arab and international action to save their lives for the sake of the Syrian revolution's reputation."
He demanded that the countries backing the Syrian opposition and rebels pressure them to prevent similar incidents from taking place in the future.
These actions steer the revolt away from its central principles, noted Gemayel.
He also called on all sides concerned with the situation in Syria to act to prevent such kidnappings.
In addition, the Phalange Party leader noted that the abduction took place on the same day as Sabra, a Christian, was appointed caretaker leader of the National Coalition, saying that it is as if the kidnappers were seeking to target the symbolism of his appointment.
Later on Tuesday, Gemayel contacted Patriarch of Antioch and All the East Youhanna X al-Yaziji and Syriac Orthodox Patriarch of Antioch and All the East Ignatius Zakka I Iwas to condemn the kidnapping of the two archbishops.
The two clerics were kidnapped at the hands of gunmen on Monday.
Ibrahim picked up Yaziji in his car from a village on the Turkish border and his deacon was driving the vehicle, NNA said.
"When they arrived at the outskirts of the city of Aleppo, an armed group intercepted them and forced them to step out of the car, killing the driver and abducting Ibrahim and Yaziji," reported the National News Agency.
Source: Naharnet