February 24, 2014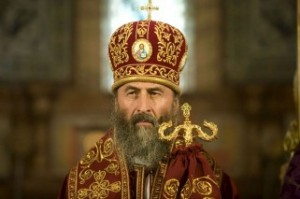 A session of the Synod of the Ukrainian Orthodox Church (UOC) took place in Kiev on February 24, 2014. In accordance with the UOC Statute, Metropolitan Agafangel of Odessa and Izmail, a permanent member of the Synod, chaired the session as the eldest by ordination bishop.
His Beatitude Metropolitan Vladimir of Kiev and All Ukraine is unable to act as Primate of the UOC for medical reasons. Members of the Holy Synod made sure of that after visiting His Beatitude in hospital, and the Synod deemed it necessary to elect a Locum Tenens of the Kievan Metropolitan Chair.
Metropolitan Onufry of Chernovtsy and Bukovina was elected Locum Tenens by secret vote in accordance with the Statute of the Ukrainian Orthodox Church.
After the election, His Holiness Patriarch Kirill of Moscow and All Russia had a telephone conversation with Metropolitan Onufry. He wished him God's help in his responsible ministry in the current difficult time for the Church and for the Ukrainian people.
Source: DECR