Fr. Philaret (Priashnikov), son of the nun killed in Yuzhno-Sakhlinsk, said that the day on which the tragedy occurred changed his entire life.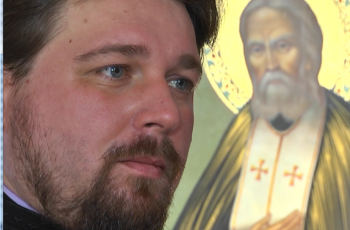 "This day completely changed me. When it all began, Fr. Vasily and I were in the religious education center. A woman came running and cried out: 'Do something: an armed man has entered the church!' We ran over, but we couldn't enter: there were shots thundering inside. I didn't panic, but I was afraid: I knew that my mama was inside. I thought that the gunshots would never end… They will always ring in my head.
"Then the police came and the shooting was finally silenced. I was one of the first to run into the church and immediately had a look at the icon shop from the altar – that's where my mama should be standing. I didn't see her there, and thought that she had managed to run away. But then I heard how a police officer said on the radio that a woman had been killed, and I understood that my mama was no longer alive… Although probably even before that, when I entered the cathedral, I felt that I had been left without her.
"I don't know what views the killer held, whether he belonged to any religion. I don't know whether he was a neopagan or not. But if a religion calls upon people to destroy their own kind, then it has no right to exist.
"I'm often asked whether I think it was possible to avoid this tragedy.
"The Orthodox have the understanding of God's Providence. We all live under God. Most likely, it was necessary to God, and necessary for all of us, for what happened to have happened. After all, it showed how we turned out to be defenseless: our children and parents are being killed and our shrines are being shot at. It also shows how indifferent we are. We need to be more attentive to what's going on around us, to the people who are around us. Mama was worthy of attention and concern, as was the second person who perished, the servant of God, Vladimir. We often saw him outside the church, but we couldn't ever have imaged that he had such a big heart.
"So far I know little about the killer. I think little about him. I only know one thing: this person's life will never be the same. His actions did not make anyone happier. And the meaning of human life is making the lives of those around you happier. Fate, the Lord, will put everything in place.
"As for whether one can justify or forgive his actions… The Lord awaits the repentance of even the worst of sinners. Repentance is open for any person. But the question is whether one has repented. Has he recognized all the consequences of his actions? Thus, only the Lord will judge, and not us."