A miracle occurred at the Nativity of Christ Cathedral in Khabarovsk, Russia, which has recently celebrated its 115th anniversary – an image of "The Inexhaustible Cup" of the Holy Theotokos inexplicably appeared on the glass of an icon case.
According to the Information Department of the Khabarovsk diocese, the miracle was noticed purely by accident. Workers at the church decided to clean the glass of several icon cases from the inside. When the glass was taken out from the icon case of "The Inexhaustible Cup", it looked "dusty", but it was impossible to clean that "dust". The workers decided to bring it into the light and were shocked, because the image of the Holy Theotokos appeared on the glass as if it was a negative.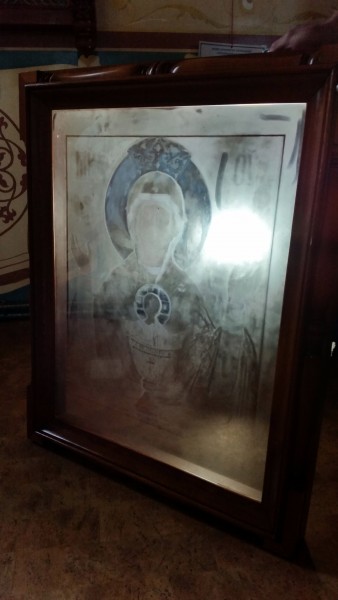 The Icon of "The Inexhaustible Cup" of the Holy Theotokos has been kept at the church since 2004. It is an exact copy of the wonderworking icon from the Vysotsky Monastery in Serpukhov, which heals those who pray before it from alcohol and drug addictions. Services of Intercession before the Icon of "The Inexhaustible Cup"  take place weekly at the Khabarovsk cathedral. Moreover, alcohol and drug addicts together with their families are being treated for a long time and a project of an Orthodox rehabilitation center is being developed.
Father Vladimir Belogubov, Rector of the Cathedral, pointed out, "On the one hand, it is God's blessing for us to continue this undertaking. On the other hand, the Mother of God helps not only people with an addiction. Indeed, this icon symbolizes the inexhaustible cup of God's mercy on all of us, and therefore, this miracle should strengthen our faith at this time."
This icon not made by hand will soon have its own icon case and then everyone will be able to see this miracle.