His Grace George, Bishop of Mayfield, Vicar of the Eastern American Diocese, led the Hierarchal All-Night Vigil and Divine Liturgy. During the Liturgy, Bishop George tonsured graduate Roman Kuhnen a reader.
Commencement ceremonies officially began with a procession from the monastery building to the cathedral. Leading a moleben, Bishop George was asking God to give His almighty helping hand to the graduating students. After the moleben, a group photo was taken of all of the students and faculty of Holy Trinity Orthodox Seminary. Everyone then proceeded to the Seminary Hall.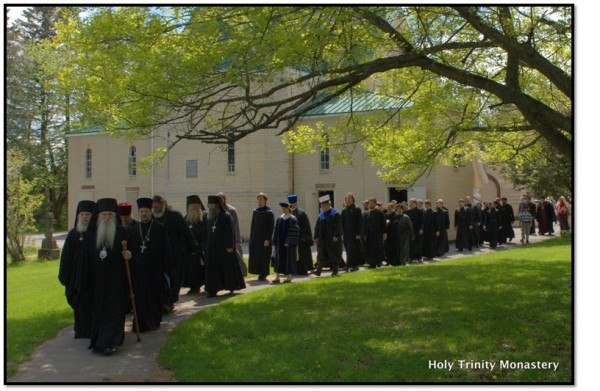 Archimandrite Luke (Murianka; seminary rector) announced the official opening of the 66th annual commencement ceremonies and offered the welcoming remarks. Asking God's blessing on the graduates and all of the students, Fr. Luke reminded the young men that "everything we live for should be centered around Christ the Savior and our salvation… If we are not firmly grounded in our Faith, if we do not clearly understand what it means to be saved, if we lose our spiritual balance and an understanding of the boundaries of the Church, we ourselves will stumble and err, no longer able to guide those entrusted to us, to say nothing of bringing others into the Church". The rector encouraged the graduates and the students to fortify themselves with Christian courage and use the priceless teaching that they had gathered for their own salvation and for the salvation of others.
Bishop George then offered brief remarks on the teachings of Elder Paisios on how to be a good priest. Archpriest Serge Kotar (Western American Diocese) shared his experiences as a priest with the seminarians and guests. Fr. Serge is a graduate from Holy Trinity Seminary, and his son Nicholas Kotar is one of this year's graduates. Following Fr. Serge's remarks, diplomas were given to the graduates.
That day, the Russian History Museum was also officially opened to the public after the commencement. During the Hierarchal Liturgy, Bishop George presented a congratulatory citation to Archpriest Vladimir Tsurikov on behalf His Eminence Hilarion, Metropolitan of Eastern America & New York, First Hierarch of the Russian Church Abroad, congratulating him on the opening of the new museum and thanking him for his hard work.
After the commencement ceremonies, guests had an opportunity to see the new museum and then proceeded to the monastery lawn to enjoy a reception.