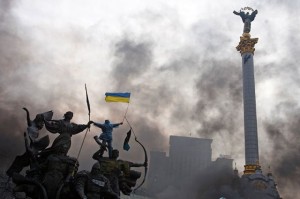 We, representatives of the Orthodox, Catholic and Protestant Christian communities of Azerbaijan, Armenia, Belarus, Kazakhstan, Kyrgyzstan, Latvia, Lithuania, Moldova, Russia, Tajikistan, Uzbekistan, Ukraine, and Estonia, have gathered together to express our common opinion on the issues of vital concern for people in our countries.
These days, our prayers and sincere concern are for the people of Ukraine undergoing hard ordeals. All our communities are praying for those who were killed or injured during the political and social confrontation, as well as for the establishment of lasting peace and mutual understanding among all citizens of the fraternal Ukraine, regardless of their nationality or religion.
We call upon all those on whom the future of Ukraine depends to adhere to the principles of freedom of conscience and religion, as well as to the principle of non-interference of state and political forces in the internal life of religious organizations. Well do we remember to what tragic consequences it had led in the history of our countries. Revolutionary methods or any calls to violence, discrimination and seizure of churches cannot promote the unity of Christians or contribute to the establishment of truly partner relationships between religious organizations and the state for the sake of prosperity of the whole society.
We call upon the Ukrainian people to exert every effort to avoid provocations and to preserve in their hearts true love for the neighbours, for their human dignity and religious beliefs.
We express our sincere willingness to promote by prayer and deeds the fraternal dialogue and to contribute to the re-establishment of peace in the Ukrainian society.