Today we glorify Peter and Paul, the great, Spirit-bearing, and Divinely-enlightened Apostles of Christ, who were the chiefs of the other Holy Apostles.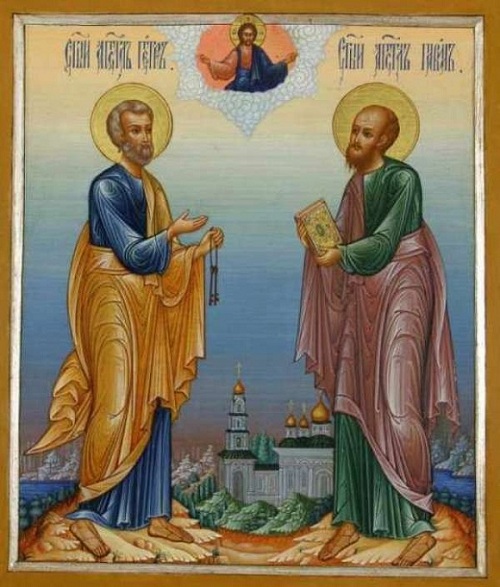 Gazing at them with our spiritual eyes, we reverently bow down before the greatness of their apostolic labor. They fulfilled the will of God: Go ye therefore, and teach all nations (Matthew 28:19). They were ardent preachers of the word of God; unshakable and valiant soldiers of the truth of Christ; they feared neither beatings, nor even a martyric death, which they both suffered on this day, according to the most ancient tradition.
The Apostle Peter was crucified; the Apostle Paul was beheaded.
It might seem to us sinners, who are small and feeble, that we have nothing to learn from the Holy Apostles; that we can do nothing but glorify the exceptional labor they carried out in Christ's name, since we all live in peaceful surroundings, each of us carrying out whatever little obedience the Lord has sent us.
Nonetheless, my dear ones, we can and should learn a great deal from these great Apostles: not only from their Epistles, passages of which are read at every Divine Liturgy, but also directly from their deeds and virtues. We can learn from them how to guard our immortal souls from sinful temptations, adorning them with spiritual beauty, so that we might stand before the face of God as faithful children of our Heavenly Father.
The Apostle Peter was also a human being. On the eve of His Passion, when our Lord and Savior was parting with His disciples at the Mystical Supper, He told them of the offences, sorrows, and temptations that awaited them. The Apostle Peter cried out: Though all men shall be offended because of Thee, yet will I never be offended. But the Lord replied to Him with words familiar to you all: Verily I say unto thee, That this night, before the cock crow, thou shalt deny Me thrice (Matthew 26, 33-34).
But then on Friday morning, when the beaten and exhausted Savior, in His humanity, required comfort and consolation – and when the Apostle Peter's devotion and loving fidelity could have provided this consolation – the Apostle Peter was at just that moment replying to the servant girl's words And thou also wast with Jesus of Nazareth by denying Him three times out of fear: I know not this Man of Whom ye speak (cf. Mark 14:66-72). He denied Him with a curse! He denied Him three times! 
Such was the depth of the fall of the Apostle Peter, who had not yet been renewed by the grace of the Holy Spirit! He was still an ordinary person, weak and feeble – and he fell.
His setting aright came about quickly. As soon as our Lord and Savior glanced meekly at the Apostle Peter, Peter remembered the word of Jesus, felt the full gravity of the sin he had committed, and wept bitterly, as the Holy Evangelist says (Matthew 26:75). These tears for his sins, which are always saving for every sinner, drew the Savior's mercy. The Lord forgave His repentant Apostle, restoring him to the apostolic dignity from which he had fallen by his sinful denial of the Lord. 
During the moleben [supplicatory service] you heard words from the Gospel about how the Savior, appearing after His Resurrection, asked the Apostle Peter three times: lovest thou Me? Then, having received his ardent replies of Thou knowest that I love Thee, He said to him three times: Feed My lambs (John 21:15-17). The Lord commissioned him to feed his rational flock, to accomplish His Divine will, and to build the Holy Church of Christ on earth. 
Once he had been forgiven, the Apostle Peter, as the most ancient tradition relates, continued to recall his grave fall into sin. Every night he would awaken as soon as he heard the crowing of the cock and begin praying, tears streaming down his face. Two furrows formed under his eyes from these tears.
My dear ones, do we not also deny the Lord? Is not the failure to follow God's commandments the same as denying our Savior?
All of us, through the mouths of our godparents, promised at Holy Baptism to join ourselves to Christ and to live with Him. We often repeat this promise to be faithful to our Lord when we offer our repentance and approach Christ's Holy Chalice.
If we keep living uncleanly – continuing to be spiteful, to condemn others, to speak ill of others, to grow angry, to use foul language, to sully ourselves with fornication, failing to accomplish God's will that we keep our mouths and hearts from all impurity – are we not thereby betraying our Lord?
May the example of the Apostle Peter, with his swift recognition of his fall into sin and his tearful repentance, inspire us – who are weak, feeble and fall into sin every minute – to see our transgressions and to be able to weep for them before the face of Him Whom we offend through our self-willfulness!
Now before us is the Holy Apostle Paul. He was named Saul before his conversion. You know that he was a persecutor of Christians. Through his blind zeal to observe the Jewish law, he oppressed Christians by persecuting and imprisoning them. But when his spiritual eyes were enlightened after the Lord had miraculously appeared to him, he became the Apostle Paul and surpassed the other Apostles in his zeal for apostolic labor.
 How many times did he receive beatings with rods and stones, endure imprisonment, and even suffer shipwrecks! But nothing could stop his ardent preaching of the Lord, to Whom he had committed his whole soul. In each and every place that his travels took him, he opened his mouth and preached the Name of God. When meeting with persecution in one town, he would pass on to the next, not having a day's rest, giving himself wholly – to the very limit of his strength – to the work of glorifying the Name of God. Thus he became great: a chief of the Apostles and a glorious Apostle of Christ, whose name is revered in all Orthodox lands. His name, like that of the Apostle Peter, will be extolled and glorified in Christ's Holy Church until the end of the ages.
Now hearken, my dear ones, to the words of Paul himself, great among the Apostles: O wretched man that I am! who shall deliver me from the body of this death? (Romans 7:24). And: I am not meet to be called an apostle, because I persecuted the church of God (1 Corinthians 15:9). He bore constantly in mind the grave sin he had committed in the days of his youth by taking part in the persecution of Christians. This memory tormented his soul even when he had grown renowned throughout the known world for his many labors in the name of Christ.
Let us learn humility from the Holy Apostle Paul! When remembering his sin, he regarded all his labors in Christ's name, all his renown, as nothing.
We all need to see our many unclean acts and to humble ourselves before the face of the Lord, recognizing that we are sinners who are disobedient to God's will. We must also be humble towards one another, not exalting ourselves in any way before one another, even were there some external and earthly reasons for this, since each of us is sinful.
On what behalf did the Holy Apostles Peter and Paul carry out their formidable apostolic labors? On behalf of love for our Lord and Savior and on behalf of love for people – for they preached the word of God to save people, that their immortal souls might not perish for eternity; but, inspired by the words of their preaching, that they might be prepared for the eternal blessedness of the Kingdom. Such was the power of their love for people!
St John Chrysostom says of the Apostle Paul: "I cannot find words to describe the love for people that fired the heart of this great Apostle. His love was broader than the ocean, brighter and warmer than any flame." He loved people as if he were their father or mother, as if he had given birth to them. Moreover, he was ready even to be separated from the Lord, if only the people to whom he preached the word of God might be saved. He would let his own soul perish, if only the people he was calling to salvation might be saved. He said this himself!
What love! What fiery love came forth from his burning heart, which he says is wide open for all, with no restrictions, embracing everyone, and loving all with this extraordinary love (cf. 2 Corinthians 6:11-12). It was the Apostle's love, his loving heart, that elevated him to an unfathomable height of greatness and holiness.  
O, my dear ones, if we all had but an ounce of such love in our hearts for one another! O, if only our love for one another, as willed by the Lord, kept our mouths, our hearts, our steps, and our hands and feet from every impurity!
Such love saves the immortal soul for eternity, for the Lord said that the commandment of love is the greatest: he who fulfils it, who fosters such love in his heart for others, fulfils the whole law of Christ (cf. Mark 12:29-31).
Let us look even closer! The Lord Jesus Christ called the Apostle Peter to follow Him while he was fishing with his brother on the Sea of Galilee. The Lord called the Apostle Paul miraculously: first he blinded him in order to enlighten his spiritual eyes, and then he granted him spiritual vision, with which the Apostle Paul could see his sin and know all the sweetness of being the servant of the Lord our Savior.
The Lord calls us to Himself in manifold ways: with His still small voice, with which He speaks to our conscience; through miraculous manifestations; and through particular events in our lives.
Often – and unexpectedly for us – we sense God's still small voice saying to us: "Come to your senses. Take control of yourself. You are standing on the brink of an abyss of sin. Death is standing not far off from you."
Sometimes the Lord overwhelms us with some particular event in order to turn us to Him, to remind our sinful hearts that the Lord is above us, and that we are all on our way to death's threshold, which we will pass over to enter eternal life.
Surely we know how the last world war roused many of either weak faith or of no faith at all!
Sometimes the Lord jolts us with sorrow, that we might thereby recall that we are sinners before the Lord, that we have departed from the Lord, and that the Lord wishes to use these means to awaken us from the spiritual slumber in which we found ourselves before this grief struck.
The Lord calls us in different ways. But the goal of this call – both the way in which He called the Apostles Peter and Paul and the way in which He speaks with each of us – is the same: to draw us to follow Him until the end of our days on earth.
The Lord calls us to eternal salvation, to which the Holy Apostle Paul, preaching the will of God, also calls us. He says in his Epistle: work out your own salvation with fear and trembling (Philippians 2:12). The Holy Apostle Peter likewise preached this – in public places and temples, in houses and on the streets – for the Lord had commanded the Apostles: preach the gospel to every creature (Mark 16:15).
Let us glance again at the Holy Apostles. The Apostle Peter was a family man with children and his mother-in-law living with him; the Holy Apostle Paul was a virgin. The Apostle Peter was a simple man; the Apostle Paul was educated. All are equal before the Lord. The Lord draws to Himself both the learned and the simple, both the married and the unmarried.
All of us, who vary in external circumstances and age, are all equally children of our Heavenly Father. Each of us has an immortal soul, which the Savior and the Holy Apostles call on us to save.
I am a bishop; you are laypeople. Each of us bears one or another earthly labor: some in their families, others at work; some of us are old, others are young. But, as it says in one of our sacred funeral hymns, we shall all stand before the face of our Heavenly Father with equal dignity. Our Heavenly Father and Judge will ask each of us only how we spent our earthly lives; how we saved our immortal souls; whether we heeded the voice with which the Lord called us from the abyss of sin to eternal life; and whether we responded to that voice.
The Holy Apostles Peter and Paul devoted themselves to people's salvation. May we, my dear ones, on their radiant feast day, on the day of their martyric deaths, hearken within our hearts to their calls to eternal salvation, to firm faith, and to true and unfeigned love – to which they called their rational sheep in the days of their earthly labors, and to which they continue to call us through their Epistles.
And may we, who are sinful and weak, yet reliant on their prayers, follow our earthly paths with the constant remembrance of our sacred duty, to which each of us is beholden, to be worthy children and disciples of our Savior! Amen.
 Translated from the Russian