This Homily was offered by Dn. Michael Schlaack on the Feast Day of Prophet Jonah
The glory of God is often revealed to us through our small acts of faithful obedience. It is not always the big, daring, or complicated acts that bring us to a greater understanding of God and His plan for our life. Sometimes it could be a simple act of faithful obedience—maybe even while performing our normal jobs—that helps to open our eyes, so we can see the Savior Who was always before us. The lesson today deals with an important aspect of Christianity: Faithful obedience in even the smallest things will lead to greater glory.
Our lesson in St. Luke's account opens with a scene that is repeated throughout the Gospels: Jesus teaching the multitude. As was so often the case when Jesus taught, the crowd pressed Him to the point where He asked Simon Peter to take Him out a little way from the shore so that Jesus could continue His teaching. The Gospel does not record exactly what Jesus spoke about, but at the end of the lesson, Jesus instructed Simon to go out deeper and drop the nets into the water. Jesus was going to demonstrate to the people the power of God while providing a clear illustration for His future disciples.
What was Simon's initial reaction? It was not immediate obedience. Looking at the situation from Simon's point of view, it did not make a whole lot of sense for him to obey the itinerant preacher. After all, who here was the professional fisherman? The account tells us that they had finished their work and were cleaning their nets. The night's effort did not provide any success so Simon, his brother Andrew and the two sons of Zebedee—James and John—were calling it quits for the day. Throwing the nets back into the water would mean extra work for what had earlier proved to be a wasted effort.
These are the types of situations that God uses to test the level of our faith. All the theological understanding in the world is no substitute for simple obedience. Often God's will does not line up entirely with our own, and His directives do not make much sense at the time. We notice in our account that Simon did not understand why Jesus told him to put his net back into the water. What was the point?  "Master", Simon told Jesus, "we have toiled all night and caught nothing."  How often do our own efforts seem to be nothing more than an effort in futility? For instance we may think to ourselves, "I know the Lord commands me to love my neighbor, but no matter how hard I try I still can't stand him. It's a waste of time to even try." Or maybe the challenges come in other forms.
Does this sound familiar?
"I know the Lord commands me to forgive my neighbor, but what he has done to me is totally unforgivable.  Besides, he's the one who owes me the apology and he'll get my forgiveness when he asks for it."
Sometimes it is just too difficult to see the immediate benefit of our obedience, so we give up before we even try. But by giving up we may be missing out on the great blessings that God had planned for us.
Doing the will of God requires us to step out in faith. The Gospel records that although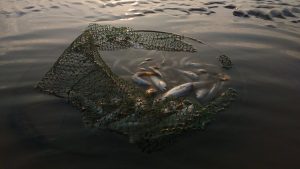 Simon could not see any personal benefit in casting out his fishing net, he did it anyway: "Nevertheless at your word I will let down the net." The results were nothing less than astonishing. The catch was so big that it nearly broke the net and capsized the fishing boat! Simon had call his brother and the sons of Zebedee, James and John, to assist with hauling in all the fish. One simple act of faithful obedience produced more results than a whole night of fishing.
The little acts of faithful obedience that God has for us may be nothing more than simply doing our job. We can see this in the lesson today as well as in the life of the Prophet Jonah, who is commemorated today. Like the disciples, his faith was challenged. God told Jonah to go to Nineveh and preach to the people of that great city, warning them of the destruction which will fall upon them if they did not repent of their wickedness. Jonah then proceeded to disobey God, thinking that he could run away from his responsibility by sailing away to Tarshish.
We learn from this account that God was not telling Jonah to do anything other than his job. Jonah was a prophet and his job was to call people to repentance. It took three days in the belly of a whale for Jonah to change his mind and his heart. After finally obeying God and preaching to the people of Nineveh, we read about the great revival in that city, where even the king repented in sackcloth and ashes, saving the city and all its inhabitants. Just as with the disciple fishermen, the results of his faithful obedience were greater than Jonah expected.
As today's lessons show us, when we are obedient to the Lord in the little things, the results will be greater than we can handle. But this is not the modern "prosperity theology," where we are deluded into thinking that we are owed earthly riches from God. We must focus on the blessings we need, not what we may want. The large haul of fish was not intended to make the fishermen rich because they did what they were told. It was to illustrate the benefits of faithful obedience while drawing the new disciples attention to the fact that they will catch far greater things—people—if they continue in their obedience.
This is the message for us today as well. When we faithfully cast our nets out into the world we too can expect great results, even beyond our capability to haul in the catch. We are called by Christ in His "Great Commission" to go into the entire world and preach, teach and baptize—this is our job as Christians.
Being successful as "fishers of men" demands our obedience and willingness to be used totally by God for His purposes, even if we do not understand how God will accomplish His plan. It should be enough for us to be willing to be used by God for His own glory, regardless of how that might manifest itself in this world. We should not look at these challenges placed before us with a negative attitude, thinking that our efforts will not produce the desired results, or giving up when we do not receive immediate gratification for all our hard work. When we ask for God's blessing on every endeavor we can rightly expect that God will provide the means and the way to accomplish His goal, which may not necessarily be our own.
So let us all embrace the work that God has planned for us. Let us show the world the strength of our Christian faith through our obedience to God, in both the big and little jobs of life. This is the only way that we can fulfill the "Great Commission" and become that light that shines in our community and our world.