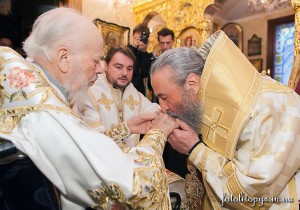 Kiev, February 26, Interfax – Locum tenens of the Kievan Metropolitan See Metropolitan Onufry of Chernovtsy and Bukoviny is reserved about prospects of the dialogue with shismatics.
"The dialogue is possible, but its result is not known. We can make concessions in economics, but not in spiritual rules and canons as there is one teaching and there can't be another!" the metropolitan said at the meeting with chairman of the Verkhovnaya Rada acting president Alexander Turchinov with representatives of All-Ukrainian Council of Churches and Religious Organizations, Ukrainian edition of the Kommersant daily writes on Wednesday.
According to him, "the Church should be set up on the foundation of love, not pressing." "Nothing good will be established in such time of trouble. Positive things appear when peace is established," the locum tenens stressed.
He also noted that if a religious war is unleashed in Ukraine, if churches are captured, "it will be more terrific than economic war."
As was reported, the Synod of the Ukrainian Orthodox Church set up a commission for the dialogue with two schismatic structures – the so-called Kievan Patriarchate and the Ukrainian Autocephalous Church.
Source: Interfax-Religion