I have lost my nineteen year old son Petia, a student of the Moscow Aviation Institute. He was my eldest son and bore a remarkable resemblance to his father who deceased seven years earlier. Of all the bereavements I have suffered – husband, mother, my favorite aunt – this last one is the gravest. On that day after his last exam Petia and his friends went to the Serebriany Bor (Silver Forest) to sunbathe. There he wandered off and was not seen again. They searched for Petia, telephoned around to hospitals, morgues, the militia…  His beaten up body was found in a river on the fifth day. Who could have done it and why? It still remains a mystery as there was nothing worth taking from Petia, who was still immature and such a pure, open-hearted soul. The only things he was at home with were physics, mathematics, innocent youth poetry and a guitar. When they found his body, on him were only underpants and a small cross …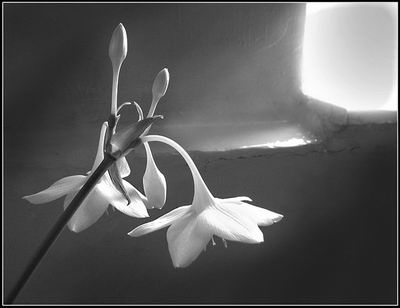 I remember as I stood near the morgue where my child was lying; it was time to go, to do something, to sign some papers, but I was unable to remove the feeling how life was flowing out of me and I didn't even resist it any longer as life itself was devalued by what had happened.
Another thing I remember was the funeral service. Petia had been a religious boy, he had attended church on his own for quite a long time, following his own heart. One week before that ill-fated day, he had made a confession and received communion. Later on his friends told me that the only fight Petia had had was with some young idiots he lunged at because of their silly and arrogant utterances against God. Some in his company didn't respond, others started arguing and Petia began a fight. I also remember a bruise on him, but he never confided to me the reason for it. I attributed his firm refusal to discuss this to some secrets he must have had relating to girls.
Many of Petia's friends came to the funeral and I think it's because he was a religious boy and people loved him. I hadn't even suspected he had so many friends. Of course, the very fact that so many people had come to join me in my sorrow helped me feel better. For all that, it is psychologically painful and physically difficult to stand at the coffin of your own child. The only thing that helped me hold on was the feeling of my younger child's hand in mine and the presence of my parents standing behind me. 
Suddenly, as I stood in the church making an effort to gather myself and pray, I realized with utmost clarity that my love for Petia and his for me had never ceased to exist, it had always been there. I felt the incredible force of this love, so vigorous that we can hardly ever come across the like in our daily lives. Then I realized that such love knows no bounds between our world and the next. At that moment I felt that life was coming back to me.
Many people who have lived through such losses gradually come to terms with them when they dream about their nearest and dearest. Religious people know a story about a widow called Cleopatra who addressed martyr Uar in her prayers when her only son had died.  As for me, I didn't dream about anything nor did I expect to. I do not dare question why our dearest children depart.  It is my conviction that we should not look at what is on the other side. There is a very deep sense in the brutally truthful Russian saying: "God giveth and God taketh away". I feel totally embarrassed when I hear people speculating as to who is worthy of the Kingdom of Heaven and who isn't because it is not for us to know unless we are talking about Saints. What I know for sure, though, is my ability to touch for a moment the limitless love, when I pray for my Petia, to feel it, the love that has no bounds. This revelation makes null and void all death certificates and the monumentality of graveyard fences.
Translated by Zhanna Menshikova