April 30, 2013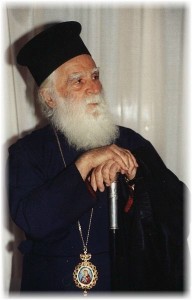 Former Metropolitan of Kissamos – Selinos, Eirinaios Galanakis, passed away at 102 on the morning of April 30.
He was born in Nerohori of Apokoronos on 10 November 1911. He studied at the Seminary of Crete and at the Theological Faculty of the University of Athens, from which he graduated in 1937. He pursued his master studies in Theology and Sociology in France, the Universities of Lille and Paris. He taught theology at schools of Chania during the period 1938-1945.
In 1946 he was ordained deacon and then priest and was given the office of the Archimandrite. He served as deputy director of the Ecclesiastical School of Crete. In December 1957, the Holy Provincial Synod of Crete elected him Bishop of Kissamos and Selinos and he was ordained on December 22, 1957.
On September 25, 1962, he was promoted to Bishop. On December 16, 1971 he was elected by the Holy Synod of the Ecumenical Patriarchate, Metropolitan of the Holy Metropolis of Germany.
With his presence he contributed to the establishment and operation of the Orthodox Academy of Crete.
He wrote dozens of books, while in the area of ​​Kissamos the museum Eirinaios Galanakis has been founded and exhibits his personal objects. The opening was officiated by Ecumenical Patriarch Bartholomew during his visit to Kissamos, on Oct. 6, 2009.
Source: Greek Reporter