August 12, 2013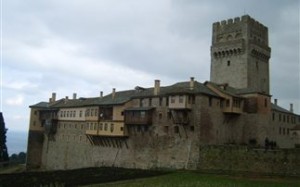 Monks on Mt. Athos fighting an eviction order have come to a truce with authorities for the meantime, officials said, although it was reported that the order will again attempt to be executed soon although the last time deputies went to the monastery they were assaulted by the clerics.
"In the period from August 1 to 31 no court decision is allowed to be enforced," said the article of the Code of Civil Procedure, which ensures peace until the end of the month.
However, officials said they will resort to a new tack, according to which the enforcement may be done even in "the days excluded by the law," provided that "the magistrate of the place of the enforcement gives the relative permission".
The tension began after the evacuation of the Holy Monastery that was ordered by a bailiff. The command was given to start projects funded by ESPA and caused the reaction of the monks of the Esphigmenou Monastery.
The Monastery's press office issued an appeal for help, "Today we were served mandatory evacuation of our delegation building in Karyes (building B). We will not leave our haunt just because the new fraternity wants to justify European funds. We will never leave our haunt to those who were baptized with the name New Esphigmenou Monastery against the Charter of Mount Athos," it said.
Source: Greek Reporter