In light of the continued turmoil and unrest that have beset the Ukrainian land, the First Hierarch of the Russian Church Abroad, His Eminence Hilarion, Metropolitan of Eastern America and New York, released the following statement on February 26, 2014: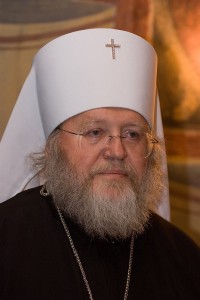 Having observed with grief and great concern the political upheavals in Ukraine, we ask that the faithful of the Russian Church Abroad strengthen their prayers for peace and the restoration of lawfulness among our brothers and sisters in that country. In this crucial time, when the Ukrainian people are searching for and trying to formulate a national identity, it is our fervent hope that they put at the head of the corner of this identity their Orthodox Faith, which has guided their fathers for over a thousand years. We, the faithful of the Russian Church Abroad living in America, regardless of our ethnic identity are all deeply connected to Kiev through our Enlightener, the Great Prince Vladimir. His decision to baptize the Kievan people led to the establishment of Holy Rus', which cultivated a great multitude of ascetics and saints, including St Herman of Alaska, who followed in St Vladimir's footsteps when he brought the Light of Christ to North America.
Let us, therefore, always be mindful of this connection and understand that only through Christ can any nation find peace or prosperity. The bloody catastrophic events of the 20th century should serve as a reminder of what can happen when people cease to rely on God and choose to forge their own path. To this end, it is worth remembering the remarkable words of the great ascetic and leader of the spiritual life of the 6th century, Abba Dorotheus: "I know of no other fall except when a man follows his own lead. If you see a man fallen, know that he followed his own lead. Nothing is more dangerous, nothing more pernicious than this."
His Eminence also instructed the parish rectors and monastery abbots of the Eastern American Diocese to continue using the special petitions and prayer for peace in Ukraine, which have been blessed and sanctioned by His Holiness Patriarch Kyrill, until further notice.
Source: ROCOR