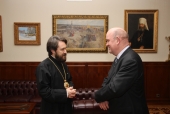 On February 10, 2014, the chairman of the Department for External Church Relations of the Moscow Patriarchate, Metropolitan Hilarion of Volokolamsk, met the ambassador of Ireland in Russia, Mr. Eoin O'Leary.
Metropolitan Hilarion welcomed the guests at the department, pointing to the good relations established between the Church's Synodal department and the Irish diplomatic mission in Moscow. In the talk that followed, His Eminence related the revival of the Russian Orthodox Church in the last twenty years and the restoration of old churches and monasteries and construction of new ones. He also informed the ambassador about the external relations of the Moscow Patriarchate including in the area of inter-Christian relations.
Answering the guest's questions, Metropolitan Hilarion shared information about the ministry of the Russian Church, the number of its faithful, clergy and bishops as well as the Church's order and governance. He also spoke about the place and role of the Church in society today, church-state relations in Russia, the principles of division of terms of reference between the Church and the state authorities and areas in which they cooperate, including in the area of school education.
The ambassador, on his part, thanked Metropolitan Hilarion for the opportunity to meet and informed him about the life of the Roman Catholic Church in Ireland.
Participating in the talk were also Archpriest Sergiy Zvonarev, DECR secretary for the far-abroad countries, and Mr. Alexander Yershov, personal assistant to the DECR chairman.
Source: DECR