The Liturgy and festivities that followed marked the 700th anniversary of the birth of Saint Sergius of Radonezh, in whose honor the chapel is named, as well as the 100th anniversary of the Chancery property, originally known as the Westwood Estate.
A combined choir of seminarians from Saint Tikhon's and Saint Vladimir's Seminaries sang the responses to the Liturgy, at which Chancery and area clergy served.  Many faithful from neighboring parishes were also present for the celebration.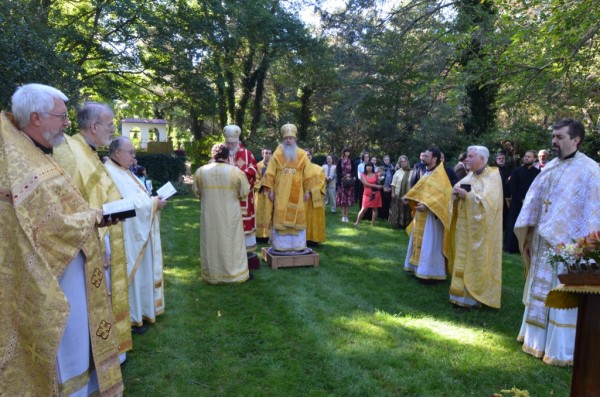 After the Divine Liturgy, the recently established Order of Saint Romanos was awarded for the first time to four individuals who have made significant contributions to the OCA in the field of liturgical music.  The four initial recipients had been selected by the Holy Synod of Bishops, who will name one additional recipient per year in the future.
Metropolitan Tikhon presented the awards to
Prof. Dr. David Drillock, "for his multi-faceted, untiring and widely influential work as a teacher, conductor, arranger and administrator, who has influenced decades of seminary choirs, authored numerous books and chairs the Department of Liturgical Music."
Archpriest Sergius Glagolev, "for his lifetime of musical contributions as a singer, choirmaster, composer and teacher.  He pioneered the use of English in liturgical services, of which many are now classic parts of the repertoire of parish choirs."
Archpriest Igor Soroka, "for his pioneering work and more than 50 years of accomplishments in liturgical music.  Many of his published works are commonly known as the "Soroka" books, which were watershed events in the life of the Church in North America."
Mr. Walter Shymansky, "for a lifetime of dedicated services to music and musicians in the Church with decades of directing, arranging, teaching and singing.  His extensive English arrangements of Russian music is the foundation of the Podoben web site."
After the Liturgy and presentations, Metropolitan Tikhon hosted attendees at a luncheon on the Chancery grounds.
A gallery of photos of the day's events may be found on the OCA web site and Facebook page.