The meeting took place at the headquarters of the Malankara Church's North American Diocese, located a few miles from the Chancery of the Orthodox Church in America.  His Grace, Metropolitan Zachariah Mar Nicholovos of the North America Diocese, hosted the meeting in conjunction with the Catholicos' week-long visit to the United States.
Accompanying Metropolitan Tikhon were Archpriests John Jillions, OCA Chancellor, and Eric G. Tosi, OCA Secretary.  Also present was Archpriest Dr. Chad Hatfield, Chancellor of Saint Vladimir's Seminary, Yonkers, NY, where Metropolitan Zachariah serves as a member of the Board of Trustees.  A number of Malankarese students currently are pursuing studies at Saint Vladimir's Seminary and Saint Tikhon's Seminary, South Canaan, PA.
The ancient Malankara Church traces its origin to the Apostle Thomas.  Headquartered in the southern Indian province of Kerala, it maintains about 1000 parishes in India, and another 200 parishes in North America.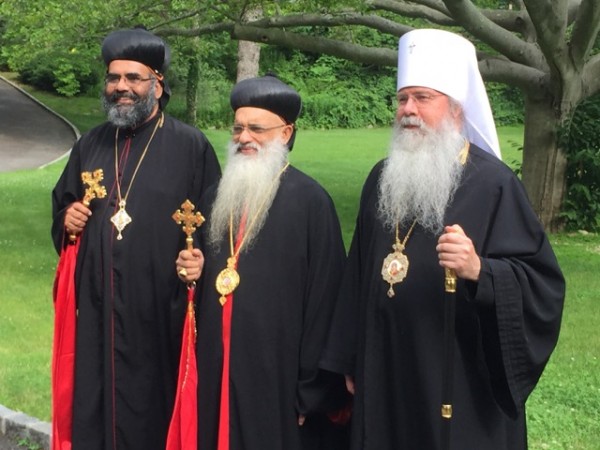 In April 2015, Metropolitan Tikhon and Catholicos Thomas met in Armenia, where they participated in the 100th Anniversary of the Armenian Genocide.  [See related story.]  An invitation was extended to Metropolitan Tikhon to attend the 200th Anniversary of the Malankara Church's seminary in Kottayam, India in November 2015.