On January 29, 2014, the Russian Orthodox University hosted a conference entitled "Cultural-Educational, Creativity and Media Action for Orthodox Youth. Issues for Parish Specialists in Youth Ministry." Leading the conference were Protopriest Andrei Sommer, Vice President of the Synodal Youth Department of the Russian Orthodox Church Outside of Russia, Protopriest Maksim Pervozvansky, Editor-in-Chief of the Orthodox journal Naslednik ["Heir"], spiritual father of the Molodaya Rus ["Young Rus"] group, Mr Vadim Yurievich Kvyatkovsky, Vice President of the Synodal Youth Department of the Moscow Patriarchate, Head of the Youth Organization Mission of the Russian Orthodox University.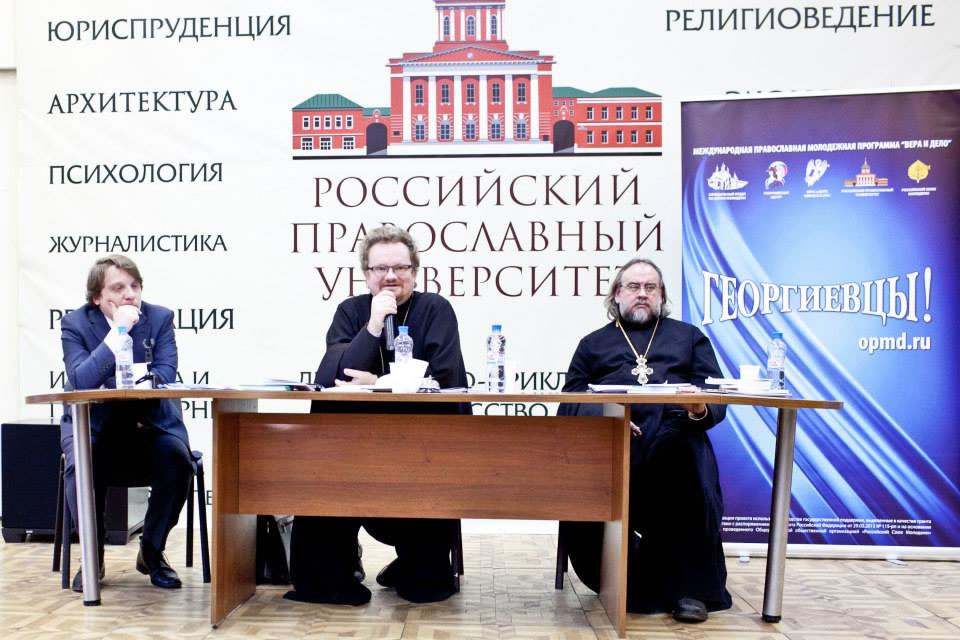 Priest Vasily Shashnev, Head of the Youth Department of Shuisky Diocese of Ivanovsk Metropoliate, opened the conference with a lecture "Youth Service in Shuisky Diocese. The First Year ." Over that short period of time, his diocese manifested several projects, including the missionary camp Sosnovy bor ["Pine Grove"].
Speaking on the Orthodox mission on the blogosphere was Deacon Artemy Silvestrov, Director of the Orthodox Youth Missionary Center of Novgorod Metropoliate. "We must destroy stereotypes, not deepen the rift between who is within and who is without the Church. Our main goal is to preach the Gospel, and not win an argument," noted Fr Artemy.

Mr Alexander Galushka, doctorate student at SS Kiril and Methody School, representative of the Orthodox Church of the Czech Lands and Slovakia, where the establishment of a youth brotherhood began in the 1980's. One of the first youth organizations in Moscow was Kolokol ["The Bell"] in 1999, whose director, Ms Vera Antokhina, shared her successes in drawing young people to the Church.
Priest Viktor Pantin, Director of the Missionary Department of Kotlass Diocese of the Metropoliate of Archangelsk, spoke about the particularities of working with young people in the agricultural parishes of the North. Other speakers also shared their experiences .
In conclusion, Fr Andrei Sommer thanked the participants for their constructive work, and invited them to participate in the 13 th All-Diaspora Russian Orthodox Youth Conference scheduled for San Francisco, CA, this summer.
Source: ROCOR