I'm sure you've had this experience. You're just about to fall asleep when suddenly you hear the tiniest of sounds go by your ear. You know immediately that a mosquito has targeted you for lunch. So, you cut on the light, but no matter how much you look around, you just can't see it. So you cut off the light, and in just a little while you hear the buzzing again. You cut the light on, but nothing. So you cut the light off and try to ignore it. You know that sometime during the night, you'll be donating blood.
It's the same in spiritual life. You're trying your best to be positive, to have some sense of spiritual progress, and then the mosquitoes start buzzing in your brain. Sometimes it seems that they have sucked all of the blood from your spiritual life. These spiritual mosquitoes are called logismoi. Logismoi are random thoughts that just seem to pop into your head without invitation. You know these thoughts (here's a short list) – gluttony, fornication, avarice, sorrow, discouragement, anger, vainglory and pride. Those are big mosquitoes and there are small ones too – the football game, the last TV show, unfinished work, deadlines, etc.
No matter how often we resolve to start again, or to pray with greater concentration, the logismoi are relentless. Each sting, no matter how small, begins to put in us the belief that we are faithless and without piety, lost and worthless, and our hope for holiness futile.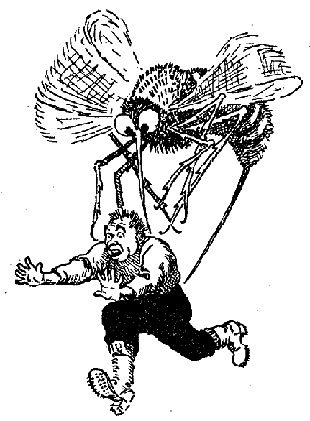 When the logismoi land, they seem to be true, but in fact they are only partially true. This gives them the hook that catches us. There is enough truth to make us believe them. A personal example: I break something and the logismoi bites, "You always screw up". Now I've just screwed up, so there is some truth to the thought. Yet, if the thought comes often enough (I do mess up a lot), I believe them. A hole begins to develop in my soul. I conclude that I am in fact a screw-up and I can never do anything right. Therefore, I am worthless. From this conclusion, depression and dejection will follow. The logismoi are somewhat Orthodox because they constantly repeat their litany. Paci…Paci – Again and again!
Jesus said, "Thy word is truth. Sanctify them with your truth." The greatest shield against logismoi is God's truth. No matter what our random thoughts try to say to us, only God tells us who we are and what we are, and his word is true. The devil does not define us, other people do not define us, family does not define us. Most of all, we cannot define ourselves. We are slaves to the Lord Jesus, bought by his Blood. Only He can tell us who we are. A slave cannot judge another slave, and a slave cannot judge himself. Only the Master judges him. The Master may convict us, but he will never condemn us. He will sanctify us because His word will help to purify our souls. His word is the mirror into which we should look to see ourselves. All other mirrors are distorted.
It is vital that we get this truth, otherwise we constantly fall before the logismoi. Now, understand, as the Fathers teach, that for 99.9 percent of us, the logismoi, random thoughts, will be with us until the day we die. God does not disdain us because of this. It is not sin that the logismoi buzz about our minds. Yet, is there anything else we can do?
A brother asked one of the elders, "What shall I do? My thoughts are always turned to lust without allowing me an hour's respite, and my soul is tormented by it." He said to him, "Every time the demons suggest these thoughts to you, do not argue with them. For the activity of demons always is to suggest, and suggestions are not sins, for they cannot compel. But it rests with you to welcome them, or not to welcome them. Do you know what the Midianites did? They adorned their daughters and presented them to the Israelites. They did not compel anyone, but those who consented, sinned with them, while the others were enraged and put them to death. It is the same with thoughts." The brother answered the old man, "What shall I do, then, for I am weak and passion overcomes me?" He said to him, "Watch your thoughts, and every time they begin to say something to you, do not answer them but rise and pray; kneel down, saying, 'Son of God, have mercy on me.'"
There are some things we must learn from this story. First, we must become aware –"Watch your thoughts." Be aware that thoughts by nature are random, and any thought can come, but they cannot compel us to do anything. Even more, we must not be shocked, since we are fallen people, at the nature of the thoughts. Some will be minor, some will be scandalous, and some even blasphemous.
Second, you are not condemned by the experience of random thoughts – suggestions and thoughts are not sins. The Lord of the mosquitoes would have us feel condemned just because the mosquitoes are flying around. Condemnation will only provide the breeding ground for more mosquitoes.
Finally, as the Fathers say, 99.99 percent of us will never be free of logismoi. It is a rare saint who attends hesychasm, or internal stillness. This may be due in part to the fact that most of us don't take prayer and meditation very seriously or we allow the busyness of life to move prayer the the edges of our daily life.
Even if it is true that the logismoi will be with us always, we must fight, but we need to fight well. Here is the most remarkable recommendation about how to fight – we combat our obsessive thoughts by ignoring them. Ignoring them? At least this means that we draw no conclusions from what we think. This may seem a bit naïve since random thoughts are so relentless.
Ignoring them would not be enough if that is all that we did. Listen again: "Watch your thoughts, and every time they begin to say something to you, do not answer them but rise and pray; kneel down, saying, 'Son of God, have mercy on me.'" Repentance? This is the way to fight the mosquitoes? Yes, it is because when we turn our backs to them we must turn to Jesus Christ to ask for his mercy. We must do both, or we will not fight well.
This is how St. Mary did it fighting against "the beasts." This is how anyone can use repentance and the Jesus Prayer to become as mentally and spiritually healthy as possible. Please, don't misunderstand me. There is genuine mental illness, so sometimes medicine and therapy is necessary. Yet we have a powerful tool to add to our therapy, a weapons in this mental and spiritual war. Imagine if you went to therapy, and the Doctor said, I recommend repentance! It would be shocking no?
I can dream of a life free of the logismoi. Yet even as I wrote this, a bunch landed on my brain and wanted blood. I ignored them and ask for mercy. So, may the Lord help you to fight, and to fight well. The mosquitoes are buzzing. Ignore them for they speak no truth, and turn to the Lord for mercy.
Source: Ramblings of a Redneck Priest