March 24, 2013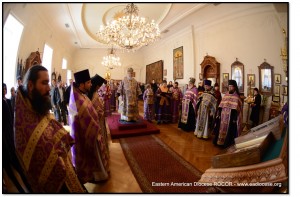 On the first Sunday of Great Lent, the Orthodox Church celebrates the Triumph of Orthodoxy, the restoration in 842 AD to the great cathedral Hagia Sophia of the holy icons, which had been removed by the iconoslasts. As the restoration took place on the first Sunday of Great Lent that year, the Synod of Constantinople determined that that Sunday should forever be dedicated to the Triumph of the Orthodox faith over those who opposed the use of holy icons, based on their denial of the reality of Christ's Incarnation.
On Sunday, March 24, the First Hierarch of the Russian Church Abroad, His Eminence Hilarion, Metropolitan of Eastern America & New York, celebrated the Divine Liturgy in the Synodal Cathedral of the Sign in New York City, co-served by Synodal and local clergy. During the Little Entrance, the cathedral's senior priest, Archpriest Andrei Sommer, was awarded the jeweled cross.
Upon completion of the Liturgy, Metropolitan Hilarion led the Rite of Orthodoxy, in which are commemorated all the holy saints and champions of the Orthodox faith, and condemned the heresiarchs and enemies of the Church of Christ. Synodal Protodeacon Nicholas Mokhoff read the Synodicon, with the cathedral choir intoning "Memory Eternal" and "Anathema," respectively.
It was especially joyful for the faithful to have the Protectress of the Russian Diaspora, the wonderworking Kursk Root Icon of the Mother of God, present at the service. In the words of Matushka Eugenia Temidis, "Today we celebrate the restoration of the holy icon. What greater feast could there be than one celebrated before our Protectress, the wonderworking Icon of the Kursk Mother of God? She is the triumph of our Orthodoxy."
In the words of parishioner Marina Fataliev, "This feast illustrates the foundation of our Church, and recapitulates how every single heresy was destroyed by the mutual consent of many bishops who united and prayed and [made] a decision with the help of the Holy Spirit. All of the truths of our Church have been founded in this manner. Certainly the presence of our miracle-working Kursk Icon here today is a wonderful consolation for all those present."
See also the Photo report.
Source: Eastern American Diocese