Major Nataliia Vladimirovna Malyshchev (1921-2012).  She went to war as a third-year university student.  Two weeks later her fiancé Mikhail was killed.  Throughout the whole course of the Great Patriotic War she served as a reconnaissance officer, worked in the headquarters of Marshal Rokossovskii, made it all the way to Berlin.  When the war ended she resumed her studies graduating from the Moscow Aviation Institute; she then worked in the design bureau of S.P. Korolev.  She retired early to take an active part in the rebuilding of the Moscow Metochion of the Puhtitsa Convent, and in the year 2000 was tonsured a nun with the name Adriana.  She died on February 4, 2012 at the age of ninety.

In her remembrance, we present her tale of the battle for Stalingrad, during which the young Natasha Malyshev was a reconnoiterer and conducted negotiations with the Nazis.
A lot has been written about the great battle for Stalingrad.  What I would like to talk about is what I have seen and experienced personally during those four months in hell.  The Germans, who were held as though in pliers tried to break free.  The thunder of explosions did not stop day or night.  At times, our men would be surrounded.  When this happened to Alexey Ochkin's battalion, one of the soldiers, whose arms were both wounded, pulled out the pin of a grenade with his teeth and with it rushed right in the middle of the enemy lines.
He died to give his comrades a chance to break out of the encirclement.  My own life was saved by soldiers of the unit I had joined only the previous day.  All of a sudden, the Germans went on the offensive, I was blasted off onto the bank of the Volga and lost consciousness.  When I came to, I was floating down the river, tied to a board.  A motorboat picked me up.  As I found out later, of all the people around me only one soldier had survived.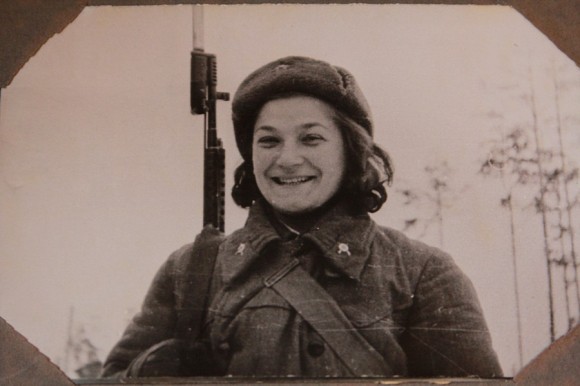 Afterwards, trying to make sense of all the things I knew and had experienced myself as well as what had been written about the battle for Stalingrad, I became firmly convinced that it was not so much the genius of our commanders, as our soldiers' unbelievable selflessness and their desire to win that ensured our victory.  Never before and nowhere else, had any army, including the German army, had such high military characteristics, such examples of self-sacrifice.
A huge number of "Katusha" rocket launchers, which the Germans were not yet used to, were delivered to Stalingrad.  I was assigned to observe the Germans, to make sure that no new weapons or people arrive.  We gave them no opportunity to make any move unobserved by us.  So many people went on reconnaissance operations that we had a clear picture before us, knew precisely, in which houses the Nazis were positioned.
Towards the end of 1942, the Germans in Stalingrad were fully surrounded, and they had not once managed to break through the encirclement.  We celebrated the New Year knowing full well that the Germans were finished there.  Our Command had ordered Field Marshal Paulus to surrender multiple times, but he refused to submit to this order.

Charged with working with the enemy, our division had to broadcast this appeal by radio amplifier, question the prisoners, and try to convince the Germans by fliers of the hopelessness of their situation.  Nonetheless, not that many surrendered.
When our soldiers entered Stalingrad, we walked from house to house trying to convince the Germans to surrender so as to avoid blowing up houses because of a few soldiers still inside.  There was only one house like that left. Our troops had already passed it.  Yet the Germans inside were shooting furiously with all they had left.  I was walking around with a white flag and a sign that said they were surrounded, that there was no way out, that they should surrender.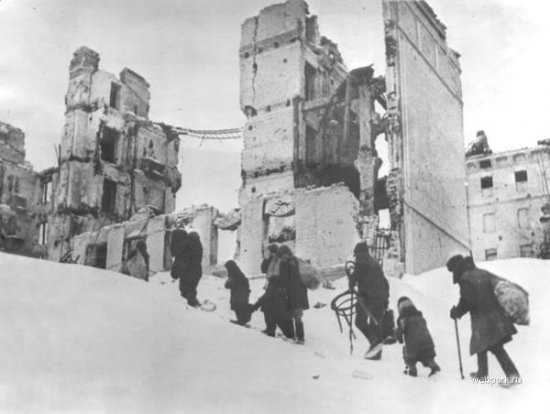 I was wearing my uniform of lieutenant and some of them, on hearing me speak German, shouted, "How could you, you traitor! You're German!"  Meanwhile I was happy to hear my German was that good.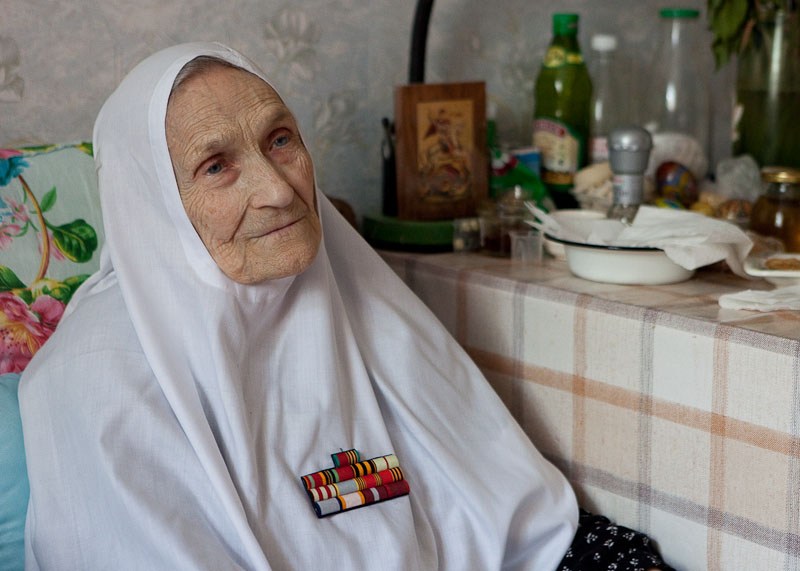 Paulus was hiding in the basement of a big department store.  While he was being obstinate, so many people were killed who could have survived, who could still have been taken prisoners.  He had food and was taken care of while his people starved.  He drove his troops to complete starvation.  Sometimes shouts came from that basement that the Führer would save them.  It turns out the Germans constantly sent Paulus telegrams saying, "Hold on, soon there'll be such an air raid that all of them will be blown to pieces."  But by then, we had already learned to counter the planes as they were flying up, so they never actually made it to the city.
Paulus surrendered only in the beginning of February of 1943.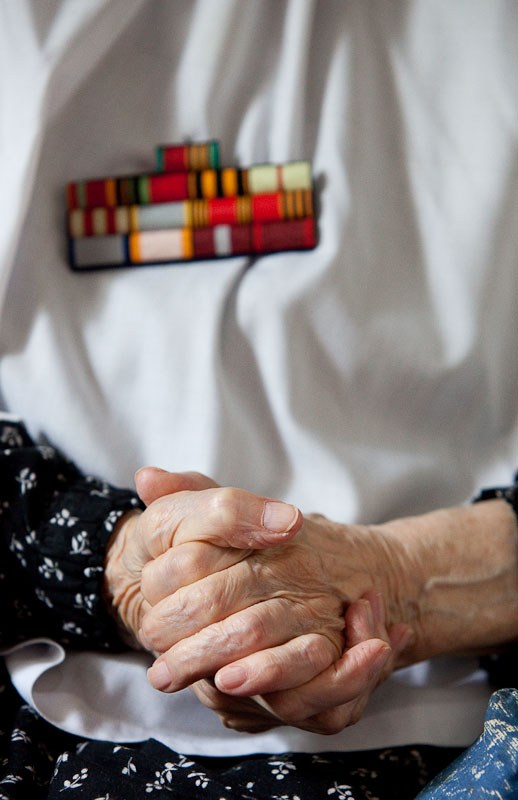 In the whole course of the war, I never saw so many people killed or so much mind-blowing devastation.  Upon surrendering, German troops marched to the prisoner-of-war collection points in formations stretching out for hundreds of meters.  The Germans were glad the siege had ended.
Poorly dressed, spurred on by the cold wind, and supporting their wounded, the German prisoners walked in a never-ending stream.  Once a column of prisoners had passed, bodies could be seen lying on the ground, bodies of people who were still alive, but no longer able to move.  It was freezing.  The strong wind covered these unnamed lightly dressed German soldiers with snow.
Looking back on that awful sight, to this day I cannot stop pondering with a heavy heart how many lives were lost during the war and how easily a person's evil will in a moment makes mortal enemies of people who don't even know each other.  And to think what suffering our prisoners-of-war had to go through in the German concentration camps!  Rejoicing at our victory I could not help but think of this great sorrow, especially since I had to work with prisoners-of-war, not all of whom were Nazis.
Translated from the Russian by Maria Nekipelov