April 4, 2013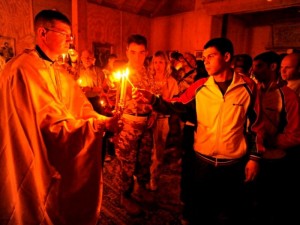 Two priests of the Orthodox Church in America recently were deployed to Afghanistan to provide ministry to members of the US Armed Forces.
Priest Paul Rivers, US Army, Chaplain (CPT), in the active duty component in Germany, and Priest George Hill, US Army, Chaplain (MAJ), in the active duty component in Fort Bragg, NC, have been deployed to Afghanistan with their units.
In addition, Priest David Alexander, LT, CHC, of the Antiochian Orthodox Christian Archdiocese of North America, will be deployed to Afghanistan for the remainder of the lenten and Paschal seasons as he provides religious coverage to US Marines.
"During this holy season of Great Lent and Pascha, we ask for your continued prayers for our Orthodox military chaplains and our Orthodox faithful and their families as they serve with our Armed Forces," said His Beatitude, Metropolitan Tikhon, Ecclesiastical Endorser of the OCA military and VA chaplains.
Archpriest Theodore Boback, Director of the OCA Military Chaplains, and Archpriest Joseph Gallick, Deputy Director, request that the names and units/locations of Orthodox Christian faithful serving in the US Armed Forces or department and defense civilians in Afghanistan be sent to chaplains@oca.org.  Submitted names will be forwarded to the chaplains serving in the area of operations.
Source: OCA.org