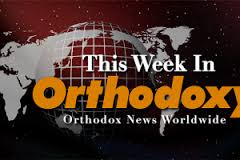 In response to the demand for Orthodox global news, the Orthodox Christian Network (OCN) has launched a weekly news program covering Orthodox events worldwide. This Week in Orthodoxy is unique because it provides coverage of events around the Orthodox world from a single location. It is also OCN's first regularly scheduled video program.
Each program is a 5-7 minute piece filmed in the OCN studio in Ft. Lauderdale, Florida. New episodes are posted each Friday evening, and feature 3-5 news stories from all parts of the globe. The show also includes announcements of upcoming news and events, as well as OCN updates.
Producer Seraphim Danckaert is a graduate of Holy Cross Greek Orthodox Seminary currently finishing his PhD in Theology under a world-renowned Orthodox theologian Fr. Andrew Louth. Mr. Danckaert brings with him several years of experience working as a journalist and editor, which have provided him with both the necessary theological background as well as connections to key Orthodox thinkers from all jurisdictions.
Watch the latest episode of This Week in Orthodoxy
Source: Antiochian Orthodox Christian Archdiocese of North America