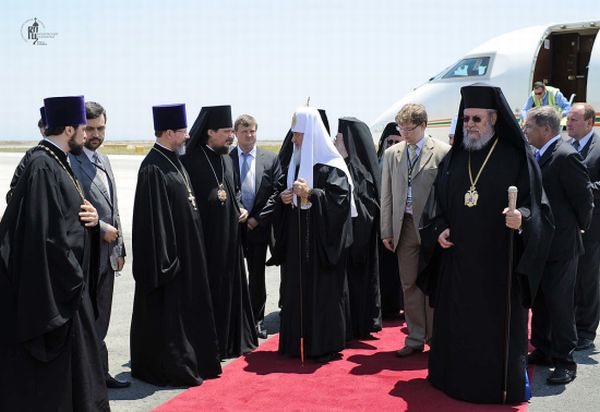 Larnaca, June 8, Interfax – Patriarch Kirill of Moscow and All Russia has arrived in Cyprus for a four-day visit.
He was greeted at the airport by Archbishop Chrysostomos II of Nova Justiniana and All Cyprus, members of the Cyprus Orthodox Church, Russian Ambassador to Cyprus Vyacheslav Shumsky and Ukrainian Ambassador Boris Gumenyuk.
On Friday, Patriarch Kirill will visit the Cyprus archbishopric in the capital Nicosia, where he will attend a session of the Cyprus Church Synod.
He will conduct brief memorial services and lay flowers at the monument commemorating the liberation of the Cypriot people from the British colonial rule and the monument to the heroes of the resistance movement against the Turkish invasion of Cyprus.
The head of the Russian Orthodox Church will also visit Saint Heracleidius Convent in Tamasoss, where he will conduct a prayer service.