Larnaka, June 8, Interfax – Patriarch Kirill of Moscow and All Russia has called for differences thwarting the unification of Cyprus to be overcome.
"We are deeply convinced that the development of relations between the two parts of Cyprus today must include respect for the religious traditions of one another and the resumption of a dialogue not only at the level of officials but also at the level of communication among ordinary people," the patriarch told reporters at the airport of the Cypriot city of Larnaca.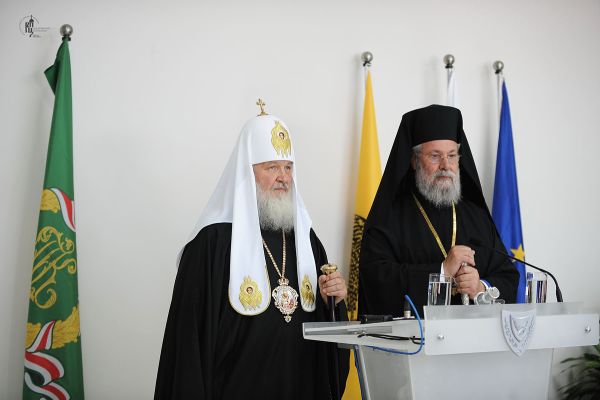 It is necessary to reduce the level of standoff, confrontation "to ensure a spiritual, cultural and psychological atmosphere for restoring the unity of the State of Cyprus in accordance with the principles which were once set by the United Nations," the Patriarch said.
Before becoming the patriarch, I had visited Cyprus many times, met with the leader of the Orthodox Church of Cyprus and officials, and tried to express my support for the Cypriot people who "found themselves in a divided territory where two ethnic communities once lived peacefully and quietly, in solidarity with one another, and who for the reasons well-known to us took different frontlines," the Primate said.
"Although there is no front today, the island is divided, and what is particularly saddening for the heart of every Orthodox believer, the demolished and desecrated shines in the northern part of Cyprus have not been restored, there is no pastoral care even for the very small Greek Orthodox community which lives there, there is no possibility for the Most Reverend (Archbishop) Chrysostomos to visit his flock," Patriarch Kirill said.
For his part, Archbishop Chrysostomos of Nova Justiniana and All Cyprus said that the relations between the Russian Church and the Church of Cyprus have lasted for many centuries and whenever Russian pilgrims would go to the Holy Land, their itinerary included the holy shrines of Cyprus.
The Russian Church has always been beside the Church of Cyprus, he said.