April 13, 2013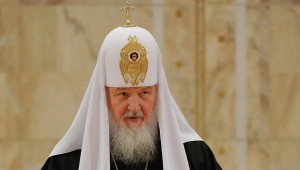 The Russian Orthodox Church officials must exercise caution while commenting on events that come into public focus as the church's opinion holds sway over millions of believers, Patriarch Kirill of Moscow and All Russia said.
The church officials have been frequently criticized by the media and the public for delayed reaction on high-profile events in Russia's political and social life, including the controversy around [deleted] punk prayer and the so-called Dima Yakovlev law.
"I believe it is wrong to mix the church's mission in the informational space with an instant reaction to trifle matters of the world, which lives in a Twitter mode itself and often pushes us to do the same," Kirill said at a meeting of the Supreme Church Council on Friday.
"We must not use the Twitter language when we talk about salvation," Kirill said. "Even while living in a constant informational noise, the Church must always seek to achieve its main goal – to save human souls."
The influence of the Orthodox Church has been on the rise since the collapse of the Soviet Union, despite the fact that the Russian Constitution separates the church from the state.
A public opinion survey conducted by the Kremlin-backed pollster Public Opinion Foundation (FOM) last year showed 65% of Russians have confidence in the Church.
Source: RIAN