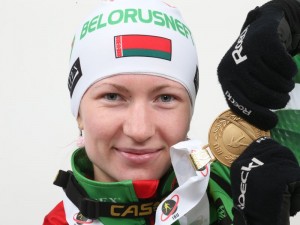 MOSCOW, 25 February (BelTA) -Patriarch Kirill of Moscow and All Russia sent a letter to Belarusian President Alexander Lukashenko to congratulate the Belarusian head of state and all Belarusian people on the wonderful performance of the national team at the 22nd Olympic Winter Games in Sochi, BelTA learned from the Moscow Patriarchate.
"The Belarusian athletes defended the honor of their country with dignity, and took a high place in the overall medal standings. A true example of great fortitude, courage and steadfastness was shown by biathlete Darya Domracheva, who won three gold medals and became the world's first three-time Olympic champion securing the victories in individual races," the letter reads.
Patriarch Kirill sent his sincere congratulations to Darya Domracheva, members of the National Olympic Committee of Belarus, and to all the Olympians who successfully continue the best sports traditions.
"I wish you strength, courage and God's help in further work for the benefit of the Fatherland," the letter reads.
Source: BELTA