Moscow, April 23, Interfax – Patriarch Kirill of Moscow and All Russia hopes that Christian leaders abducted near the Syrian city of Aleppo will be released unharmed.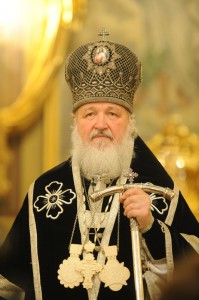 "I am making all possible efforts now to facilitate the soonest possible release of the abducted archbishops from captivity. I am praying that the Lord keep them unharmed and return them as soon as possible to the suffering congregation, that He strengthen you in the trials that have befallen you and establish peace on Syrian soil," Patriarch Kirill said in a telegram to Patriarch John X of Antioch and All the East.
Patriarch Kirill said he considers the incident a grave crime, since it was aimed against clerics, "whose mouths are accustomed to proclaiming only words of prayer and calls for peace and fraternity."
"It is tragic that such things happen on Syrian soil, where religious figures have traditionally been treated with great respect," Patriarch Kirill said in a document cited on Tuesday by the communication service of the Moscow Patriarchate's External Church Relations Department.
In a letter to Patriarch Ignatius Zakka I Iwas of the Syriac Orthodox Church, Patriarch Kirill said, "We have once again seen an inhuman and cynical action committed by those whom the media are trying to portray as fighters for freedom and democracy."
"This horrible deed eloquently reveals the true goals of those who have unleashed the bloody standoff in Syria. Our Church is praying for health and the soonest possible release of the abducted hierarchs," Patriarch Kirill said.
The media reported earlier that Syrian opposition fighters kidnapped Orthodox Metropolitan Paul of Aleppo, Patriarch John X's brother, and Syriac Orthodox Metropolitan of Aleppo Youhanna Ibrahim on April 22. Their driver, also a cleric, was killed. The archbishops were dealing with humanitarian problems of the local population in the village of Kfour Dael near the Syrian border with Turkey.
Source: Interfax