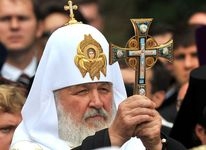 Moscow, February 24, Interfax – Special prayers for Ukraine were lifted up at the Sunday liturgy celebrated by Patriarch Kirill of Moscow and All Russia in Moscow Church of Archangel Michael.
Patriarch knelt down before the altar and read a prayer for suffering Ukrainian people. Then he conducted a requiem service for those who were killed during the confrontation in Ukraine.
Prayers for settling the conflict in Ukraine and rest of all the victims killed in the country were lifted up in all churches of the Moscow Patriarchate that day.
After the service, the Patriarch urged Ukraine to peace, reminding about Christian roots of the Ukrainian people.
"The blood is shed there for this human truth, while it is still not known whether it is truth or not, while it is not compared to God's truth. And for establishing this or that point of view brotherly blood is shed, a terrible sin of killing brothers is committed," Patriarch Kirill said.
According to him, if a person has fear of God "he will put his arm down, he won't kill another man, he will find other ways of establishing his truth."
The Primate stressed that Russia's history had many examples, showing how forceful attempts to establish someone's stand "have never led to achieving the aims for which the brotherly blood was shed."