On April 22, 2013, gunmen abducted Archbishop Gregorius Yohanna Ibrahim of the Syriac Orthodox Church and Bishop Boulos Yazigi of the Greek Orthodox Church in the Kfar Dael area.
Nothing has been heard of them since.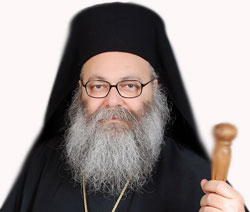 "We hope the bishops are alive, but unfortunately the whole world remains silent, and nobody has provided us with material proof," said the patriarch of the Orthodox Church of Antioch, Yohanna Yazigi (John X of Antioch), the brother of one of the kidnapped prelates.
Speaking in Lebanon, he called on "the whole international community and international organisations to mobilise" and discover the fate of the missing men, Lebanon's ANI news agency reported.
"We have tried to negotiate with everyone who can help in this affair, but unfortunately there is total silence," Yazigi said.
Tens of thousands of people have been kidnapped or reported missing in Syria since the conflict there began four years ago, the Syrian Observatory for Human Rights monitor says.
Like their fellow Muslims, many Syrian Christians have fled the country because of the violence and after jihadists moved into certain areas.
Italian Jesuit priest Paolo Dall'Oglio was kidnapped in late July 2013 in Raqa province, stronghold of the extremist Islamic State group.
His fate also remains unknown.
In April last year, Dutch Jesuit priest Frans van der Lugt was shot by unknown assailants in the rebel-held old city of Homs after refusing to leave so he could help the poor during a suffocating regime siege.
And in March last year, 13 Syrian nuns who had been abducted by a rebel group north of Damascus were released after mediation.