April 19, 2013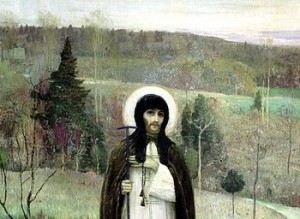 On December 6, 2010, in connection with the anniversary in 2014, the President of the Russian Federation D. A. Medvedev gave his approval to set up a workinggroup attached to the President to prepare celebrations for the 700th anniversary of the birth of Saint Sergius of Radonezh. Responsibility for the groupwas assigned by the President to the then Deputy Chairman of the Presidential Administration A. D. Beglov (now the executive representative of the Presidentof the Russian Federation for the Central Federal District). The first meeting of the group took place on March 16, 2011 in the Red Hall of the Cathedralof Christ the Savior in Moscow under the chairmanship of His Holiness Patriarch Kirill and A.D. Beglov. During the meeting the group's scheme of workwas approved. It included:
Planning the celebration of the 700th anniversary of the birth of St Sergius of Radonezh;
Establishing an international charity;
Unveiling monuments to St Sergius in Moscow and abroad;
Establishing a St Sergius of Radonezh award "for contributions to restoring spirituality in Russia";
Preparing and publishing new materials about St Sergius;
Holding international academic conferences;
Holding international exhibitions in Russia and abroad;
Creating a special informational website;
Making a documentary film;
Designing a postage stamp and minting a commemorative coin.
Given that without the direct participation of the Russian Orthodox Church it is impossible to hold key events and prepare the anniversary celebrations,in order to co-ordinate activities His Holiness Patriarch Kirill of Moscow and all Russia has decided to set up an organizational committee of the Church to prepare the celebrations of the 700th anniversary of the birth of St Sergius of Radonezh. The first meeting of the organizational committee is to be held on April 25, 2013 in the Holy Trinity St Sergius Lavra under the chairmanship of Metropolitan Merkury of Rostov and Novocherkassk. The list of committee membershas been posted on the patriarchia.ru website.
Source: Pravoslavie.ru