The Gospel says that when the Lord approached the time of His suffering and told His disciples of this, Apostles James and John Zebedee asked the following of the Lord: "Grant unto us that we may sit, one on thy right hand, and the other on thy left hand, in thy glory." The Lord replied: "Ye know not what ye ask: can ye drink of the cup that I drink of? and be baptized with the baptism that I am baptized with?" They expressed their valorous readiness for martyrdom by saying to Christ: "We can." Jesus then said to them: Ye shall indeed drink of the cup that I drink of; and with the baptism that I am baptized withal shall ye be baptized: but to sit on my right hand and on my left hand is not mine to give; but it shall be given to them for whom it is prepared" (Mk 10:37-40).
For w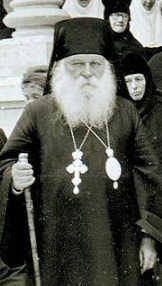 hom is it "prepared?" Vladyka Nikon (Rklitsky, +1976), the author of a great remarkable work, the biography of Metropolitan Anthony (Khrapovitsky, +1936), gave me an answer to this. Vladyka often honored me with conversation, telling me that he often thought about these Gospel words, and was bewildered by the words of the Savior: "for whom it is prepared." And so, entering the church once, he glanced at an icon of Christ the Pantocrator: on His right was His Most-Pure Mother, and on His left, St John the Baptist. Vladyka got his answer. Christ did not tell His disciples the identity of those who were to have the honor of being directly to the right and left of Christ in His glory; had He told them that the Mother of God and John the Baptist had this honor, the apostles may have thought that Christ offered this honor from familial sensibilities. But the Mother of God was more holy that all the saints and higher than any heavenly host, but this, maybe, was not known by the apostles at the time. As for John the Baptist, who combined within himself a prophet, an apostle, a martyr and an angel who prepared the way for the Lord, then by the Lord's own words: "there hath not risen a greater than John the Baptist" (Mt 11:11). They were not worthy of this through their relation to the Savior, but through their spiritual kinship. The Church replied to Vladyka Nikon's question through her icon.
A week later, the kind Vladyka passed away. So just before his death, he was given a revelation.