February 19, 2014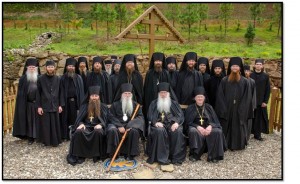 Monastic life serves a very critical function in the life of the Church and its faithful. In 2012, the monks of the Holy Cross Monastery in Wayne, WV, started Project Kellia. Monastery dean Hieromonk Alexander (Frizzell) is keeping the faithful of the Eastern American Diocese up to date and informed us on how soon the monastics and novices will be put under its roof.
– Currently, Project Kellia – the dormitory project of Holy Cross Monastery – is nearing completion in some ways: the drywall upstairs is being painted, and in a couple of weeks after the flooring is finished, we'll be putting in the trim and finishing out rooms, the upstairs cells in the dormitory. Then we'll move downstairs to do the drywall and flooring and trim there, God willing!
We still have some outdoor work to finish: to set up the plumbing and septic systems, so that we can actually begin to use the cells before we have them completed.
Fundraising over the course of the project has been very good, but we really need one more little boost of money to accomplish all the finishing elements and to buy the furniture for each cell.
Project Kellia contains nine monastic cells, plus an infirmary and an exam room. The reason for the exam room is that we have some doctors who visit us at the monastery and do house calls, write some prescriptions and diagnose various general ailments, and take care of the monks medically.
At present, at the monastery we do have a housing problem. We have 20 monastics and three monastic candidates, plus other men visiting the monastery, trying to examine or access their monastic calling. Now all of our cells are absolutely full, we use an old RV camper for one of the novices, and we have a temporary housing in the basement of the guesthouse for one of the monastic candidates. And this is, of course, not ideal. We should have proper cells for these people.
With Project Kellia we'll be able to abandon this temporary housing situation and also house all of the monastic candidates who hope to come into the monastery this year.
– How many monastics are you planning to house, and when will you be able to do that?
– We'll be able to house nine more people when Project Kellia is finished. Currently, we are working on the upstairs, where we can open up four normal monastic cells. So by the end of February, we'll move four people into Project Kellia and then, over the course of March, we'll move more monastics into the lower level of Project Kellia.
– Do you mean those people who are already living in the monastery?
– Yes. We'll reshuffle people from various other cells into Project Kellia and try to abandon this temporary housing situation of the guesthouse and RV camper.
– Who is engaged in this construction process?
– The construction is being made by a combination of monastics, monastery employees, and (sometimes) special contractors. For example, one contractor did the drywall work, one contractor – a Romanian Orthodox man – will be doing the flooring at a great discount for us. And we also have monastery crew working – two monastic supervisors: one for the plumbing and electrical work, one for the general finish work, and we also have monastery employees supervising their labor.
– How much money do you still need to complete the project?
– We have raised over $360,000. We need a few more major donations to meet our goal of $500,000. It is a very large building – 24×84 feet. And the side preparation was quite expensive. But over the course of the work, we've been able to save some money by using our own volunteer monastic labor.
Nevertheless, it is a very well-insulated building and very efficient to run. And the total budget of the building plus its septic system is $500,000. We hope to raise another $40,000 from various people, and a couple of large donations will help us, so we could finish it completely this year.
 – Who are your major donors?
– We have donors large and small. Some people sent $30 to Project Kellia and some people send $20,000. We had specially two very good benefactors who sent major donations over the course of the last 1½ to two years of Project Kellia. That is the reason we've been able to build such a large building. One of them is not in the position now to continue on the same level, so we are looking to other people to help us with Project Kellia.
– From where do people send money?
– All over the country: Tennessee, Pennsylvania, West Virginia… We have an Antiochian parish in West Virginia in St. George Cathedral, which gave $10,000 to finish one cell. And I was speaking with a couple of other parishes now about taking over collections in supporting Project Kellia.
Nevertheless, you could say that is a miracle that there are any monasteries these days. People are very spiritually apathetic and moral life of our nation is eroding very quickly. So it's amazing that there are monasteries and that men want to go to these monasteries. That's something that the faithful really need to treasure and support, ensuring that we have this and other monasteries, and in general a monastic life praying for the people of the Church for decades to come.
Click here to donate to Project Kellia.