April 23, 2013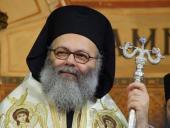 There have appeared many reports in both the Eastern and Western press that the two hierarchs who were abducted yesterday by terrorists in Syria, Metropolitan Boulos Yazge, Antiochian Orthodox Archbishop of Aleppo, and Archbishop Youhanna Ibrahim, Syriac Archbishop of Aleppo, have been released. His Eminence Metropolitan Philip spoke by phone this morning to His Beatitude John X, Patriarch of Antioch and all the East (pictured), who said that these reports are false, and that the release of these two hierarchs has NOT taken place.
We ask you to continue to pray for their safety, and eventual release.
Confirmed updates will be published as soon as they are known.