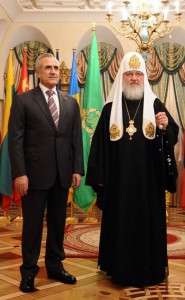 January 4, 2013
President Michel Suleiman is scheduled on January 22 to visit Moscow where he will meet with his Russian counterpart and receive an award on his role in calling for dialogue and opening channels of communication between bickering parties, the Central News Agency reported.
CNA said Thursday that Suleiman's two-day visit comes following an official invitation sent by Russian Orthodox Patriarch Kirill I.
The president's talks with his Russian counterpart Vladimir Putin will focus on the situation in the region and mainly Syria. They will also deal with the conditions of Christians in the Middle East, including Lebanon and Syria, the agency reported.
During his visit, Suleiman will be honored by an organization that presents a yearly award to top officials and leaders in appreciation to their calls for dialogue and for "opening channels for communication among warring parties," it said.
The president's trip to Moscow will be an opportunity to discuss Russian military assistance to Lebanon, including promises to provide Lebanon with MiG airplanes, CNA said.
It also quoted sources as saying that both Speaker Nabih Berri and Prime Minister Najib Miqati could make separate official visits to Romania following a trip made by Suleiman early last year.
Berri could visit Bucharest in February while Miqati might head to the European country in mid-March in an attempt to consolidate ties between the two countries, they said.
Source: Nahnaret