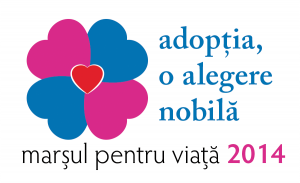 This year, almost 40 Romanian cities will see the fourth edition of the March for Life, the biggest yet both in participation and reach. This year's theme is "Adoption, the noble choice", promoting adoption, as the natural solution to protect children born by mothers in difficulty, whose families cannot assume the responsibility of raising a child.
The main organizer and nation-wide coordinator is pro-life student organization Studenti pentru Viata.
"We have established this association because we wanted to help young women in situations of crisis and offer young people formation for family life. I started doing this on my own when I was only 16 and the results showed me that this is the most important form of social responsibility," says Alexandra Nadane, President of Studenti pentru Viata Association.
It is for the first time that this global pro-life event brings together so many people and cities in Romania, also enjoying the blessing of the Romanian Orthodox Church, who reinforced its support for it in a release on Thursday stating: "The Christian family where children, be they born or adopted, are welcome and lovingly nurtured, educated in Christ and supported to follow a useful path in their lives, is blessed by God with the joy of paternal love and the gift of salvation and eternal life."
This social effervescence was brought about by a real media buzz. Romania's March for Life has professional video and promos. It was the first time that the event has had a press conference that was transmitted live on an online TV channel which later registered over 150,000 views. After Studenti pentru Viata President Alexandra Nadane appeared on the TV and radio channels of the Romanian Orthodox Church, over ten more cities joined in the event.
Many Romanian cities have also organized related events such as pro-life movie screenings, adoptive parents' support groups, art exhibitions, conferences and roundtables in what has been named as The Pro Life Week.
Another premiere is the concert organized in Bucharest after the March for Life, on March 22. Eight Romanian artists will sing for adoption. In the meantime there will be a drawing workshop for kids.
Also remarkable is this year's official support by Romania's government, which will help organize a final forum on adoption with representatives of the Romanian Office for Adoptions, members of parliament who have expertise in adoption legislation and civil society. It may prove a turning point for the Romanian practice of adoption. The main proposal made by Studenti pentru Viata Association is that the law provide for the possibility to start adoption proceedings during pregnancy, which is not legal in Romania yet.
Paula Herlo, the well-known Romanian TV journalist and social activist who helped improve the adoption law in the past, says: "We need to re-evaluate and find new solutions. When a child is abandoned, just identifying the problem is not enough. We need solutions. A good thing would be to have a mediating office with the Child Protection Agency."
Studenti pentru Viata's Alexandra Nadane says Romania also needs to change its adoption culture: "Adopted children are seen as second-rate children. The adopting family is perceived as un-natural. The natural mother or both natural parents who give their child for adoption are considered unfit to be called parents. These depictions are incorrect and make the adoption process and the child's integration very cumbersome. But if we focus on the child's interest, everything will change. For children's sake, not necessarily for the adoptive family's sake. It is about a family for each child, not about a child for each family."
Source: LifeNews.com