MOSCOW, January 28 (RIA Novosti) – The head of the Russian Orthodox Church said Monday that priests should be assigned staff positions within the ranks of the Interior Ministry's troops following the success of a similar move in the military.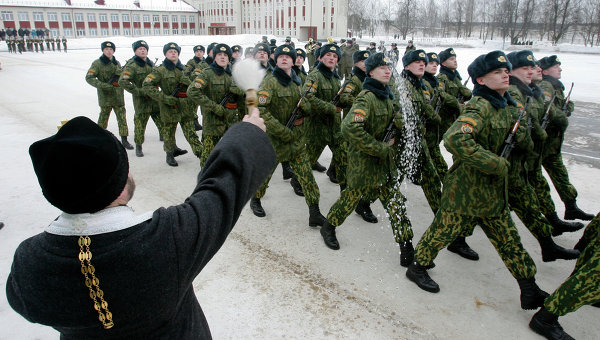 "With God's grace, the institute of military priesthood is being revived. According to the Defense Ministry it has a positive influence on the morale of the military," Patriarch Kirill said.
The Russian church leader highlighted the importance of religious work among the Interior Ministry's personnel who "face death carrying out anti-terrorism operations."
The number of chaplains in the Russian Armed Forces has almost tripled in the past two years as part of the plan to restore full-scale military priesthood in Russia, which existed from the 18th century to the start of the Soviet era. The plan was announced in 2009 by Russia's then-president, Dmitry Medvedev.
The current number of military chaplains in the Russian Armed Forces stands at 80. Russia is planning to appoint about 400 military clergymen.
Two-thirds of the country's servicemen consider themselves religious, according to the Russian Defense Ministry. Some 83 percent are Orthodox Christians, about 8 percent are Muslims, and 9 percent follow other faiths.
Source: RIA-Novosti