April 23, 2013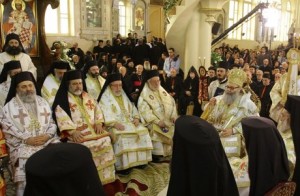 The Russian Orthodox Church on Tuesday called for the release of two Orthodox bishops who Syrian state media said were kidnapped by an armed group in northern Syria.
"We call on the Syrian authorities to do everything possible so that the kidnapped bishops are returned," said the statement, citing Metropolitan Hilarion of Volokolamsk, the chairman of the powerful department of external church relations.
"We express deep sympathy to the Patriarch John X of Antioch and the head of the Syriac Orthodox Church Moran Mor Ignatius Zakka I," it said, referring to the heads of the bishops' churches.
The Greek Orthodox bishop of Aleppo, Boulos Yaziji, and the Syrian Orthodox bishop of Aleppo, Yohanna Ibrahim, were on Monday kidnapped while on a humanitarian mission in a north Syrian village, Syria's state news agency SANA reported.
It said that the bishops were taken by "an armed terrorist group".
Christians account for about five percent of Syria's population and they have remained largely neutral or supportive of the regime since the outbreak of the uprising against the government in early 2011.
"We are praying for the health and soonest possible return from captivity of the kidnapped bishops," said the statement published on the Church department's website.
The statement supported the Kremlin's policy on the Syrian conflict, explicitly criticizing Western powers for backing rebels against the regime of President Bashar Assad.
The Russian Orthodox Church is seen as close to the Kremlin and has been granted some privileges over other denominations.
"We call on the governments of Western countries, which support extremists eager for power, to stop this support, since what is happening in Syria is not a civil war but an attempt to overturn the existing regime with the use of arms, using external force," it said.
Along with China, Russia has blocked several U.N. Security Council draft resolutions threatening sanctions against Assad's regime.
Source: Naharnet