You may wonder where the term "scapegoat" comes from. As a matter of fact, it comes from the Book of Leviticus:
"Aaron shall lay both his hands upon the head of the live goat, and confess over him all the iniquities of the people of Israel, and all their transgressions, all their sins; and he shall put them upon the head of the goat, and send him away into the wilderness by the hand of a man who is in readiness. The goat shall bear all their iniquities upon him to a solitary land; and he shall let the goat go in the wilderness." (Lev. 16:21-22)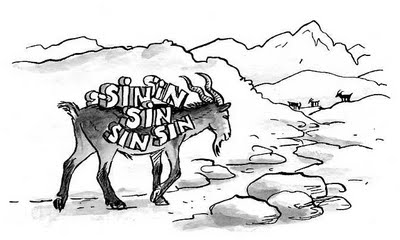 A scapegoat, therefore, referred literally to an 'escaped goat' in the wilderness. It was necessary because the people of Israel could not enter into any kind of relationship with God unless that which separated them from Him—sins and transgressions—were 'sent away.' Unlike the burnt offerings, which served as a way of repairing a person's failure to keep the covenant with God, the purpose of the scapegoat was to psychologically and spiritually send the nation's collective guilt back to the realm from which it came—the wilderness, which was understood in Scripture as the home of demons.
The prescriptions of Leviticus for Israel are a communal, symbolic form of what you and I often do on a daily basis. I am talking about scapegoating (my spell checker tells me it doesn't exist, but I beg to differ). When we do something wrong, we often cannot stand to bear the blame alone. Our guilt is more than we can endure. We need to put some distance between it and ourselves somehow…
That's where scapegoating comes in. By placing our sins and transgressions 'upon the head' of someone or something else, send it away from ourselves, perhaps we can be free from the shame that we cannot bear.
How does scapegoating work? Consider those subtle non-apologies we are so good at. "I'm sorry I snapped at you. I've just been so stressed lately… I'm sorry I'm late. The kids were really dragging their feet this morning."
It's rarely just, "I'm sorry I snapped. There's no excuse," or something equally responsible. We 'admit' the guilt, then quickly transfer it—often in the same breath. External circumstances (such as stress) and other people (such as the kids) become our scapegoats. We have even mastered the trick of making our own psychological states (depression, medical illness, inherited conditions) the causes of our negative actions, rather than what they really are: the conditions that incline us to act in certain ways, but do not cause them.
For instance, the chronic pain I feel as a result of some ailment is not the cause of my irritability. My pain may make me more susceptible to anger, but nothing and no one can actually make me angry. The temptations to act in certain ways may come from specific external sources, but the acts themselves are my full responsibility.
But that's just the problem. Most of the time, we seem unable bear this responsibility. We need a scapegoat, and by hook or crook, we often find one, for a time at least. Eventually, when we commit more or different wrongs, we need new scapegoats, and the process of blame transference begins all over again.
Like all sinful tendencies in the human soul, scapegoating is a natural instinct used for unnatural purposes. The truth is, we can't really bear our own wrongful behaviours; left to fester, they will destroy us. Unless we find someone else to bear our shame and guilt, our shame and guilt will begin to poison us.
We need a scapegoat, but it can't be other people: friends, family, coworkers. It can't be circumstances or conditions in which we find ourselves. Those are temporary fixes at best, and in the end they really don't work. Inevitably, scapegoating disconnects us from ourselves and the world around us, leading to alienation, isolation and spiritual death.
Who or what, then, can be our scapegoat? According to an Eastern Orthodox reading of the Old Testament Scriptures, the prescriptions of Leviticus are not merely social, psychological or even religious techniques for dealing with guilt. They are rather prophecies fulfilled in the Person of Jesus Christ. Christ Himself is the ultimate scapegoat who "bore our sins" (1 Peter 2:24) in the wilderness "outside the camp" (Hebrews 13:13).
Being fully human, Jesus understands human weakness, and so can identify with the burdens that we give Him. Being fully God, though, He can really and truly and completely take away the sins we give Him. With Christ, we are not simply emptying our trash into someone else's yard. We are sending it into eternity and oblivion.
In this view, God is not just a God to whom we can turn over our will and our lives, so that He might provide for our emotional, spiritual and material needs. He is the God to whom we can turn over our wrongs as well! And when the conditions that led us into wrongdoing come upon us, we can say, "I don't want to bear this; I want You to bear it for me; I put it upon Your head." It's inconceivable that our inconceivably loving God could make this provision for us, but it's true. We don't need to figure it out. All we need to do is accept it.