March 8, 2013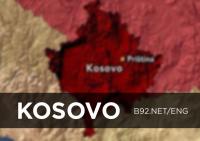 PRIŠTINA — Delivery of the most important medicines to Serb enclaves in Kosovo will begin on Monday, Velefarm drug distribution company has released.
Velefarm is the only Serbian company that has a license to distribute medicines to Kosovo.
Kosovo Health Minister Ferid Agani told B92 that all competent institutions had given the official approval for the delivery of medicines to health institutions in Serb enclaves.
The shipment of medicines is worth around RSD 12mn.
"The agreement was reached yesterday because the reason for this (prevented shipment of medicines) was the fact that those donations that came through Velefarm were different than other donations that came to the territory of Kosovo. This created a possibility of abuse. A full consent has now been reached on all disputable issues so I think we will not have similar problems in the future," Agani explained.
Gračanica Health Center employees held a protest on March 6 because health institutions in the Serb enclaves had run out of medicines. Gračanica Health Center Director Rada Trajković told Beta news agency at the time that hospitals had almost no medicines left and that doctors could not be responsible for patients' deaths.
Source: B92.Net