February 23, 2014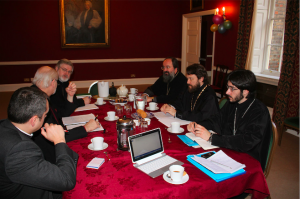 A session of the Coordinating Committee for Cooperation between the Russian Orthodox Church and the Church of England took place on February 22, 2014. Taking part in the session held in the framework of Metropolitan Hilarion's working visit to London were the DECR chairman; Archbishop Yelisei of Sourozh; hieromonk Ioann (Kopeikin), prorector of the Ss Cyril and Methodius School of Post-Graduate Studies, and Artem Borzov, a staff member of the DECR. The Church of England was represented by Bishop Richard Chartres of London, Bishop Jonathan Goodall of Effsfleet, and the Revd Andrei Petrine.
They discussed cooperation between the two Churches, for instance, the education of students from the Russian Church in the universities of Great Britain. The Russian side expressed its willingness to admit British students into the theological schools of the Russian Orthodox Church, for instance, into the Ss Cyril and Methodius School for Post-Graduate Studies.
Also discussed were prospects of cooperation in the exchange of pilgrims with the visits of the British groups to the holy sites of the Russian Church.
Members of the Coordinating Committee paid great attention to the situation of Christians in the Middle East and North Africa.
After the meeting, Bishop Richard Chartres of London gave a luncheon in honour of the Russian Orthodox delegation.
Source: DECR