A sermon by His Holiness Kyrill, Patriarch of Moscow and All the Russia, on the day of commemoration of St. Sergius of Radonezh.
In the name of the Father and of the Son and of the Holy Spirit!
Today we triumphantly celebrate the name of our venerable and God-bearing Father Sergius, Abbot of Radonezh, the Wonder-worker. St. Sergius is a great example for all of us, for the Church, for our people. He is an example of how the divine commandments may subsist in a human personality, of how a human being, encompassed with frailty and illness, bound to the physical circumstances of this world, can obtain a likeness to the angels.
Every faithful person, from time to time, encounters this thought: Is it at all possible to obtain this divine likeness in our contemporary world? A reading of the life of St. Sergius convinces everyone that he was truly a great man. He was a happy man. St. Sergius never complained, even in the most difficult circumstances of life, neither when he lived in solitude and began to build this holy monastery, not when, being misunderstood by the brethren, he had to leave this monastery and was, as it were, driven out from among his brethren; nor in those times when great dangers surround both Church and country. Nowhere is it written that the Saint was grieved by something, that he became exasperated or angry in trying to affect something by means of human power. His Life shows us a wise, spiritually powerful and beautiful man, truly a great example for us.
How can we better understand such a mysterious life? How shall we begin, and how maintain such a manner of life? The texts of Holy Scripture that we read in connection with the memory of the Holy Fathers are quite remarkable. We all know well the words of the Gospel according to Matthew, which were proclaimed last night during Matins: "Come and learn from Me, for I am meek and humble of heart." And what else? "And you shall find rest for your souls." (Matt. 11:28-29)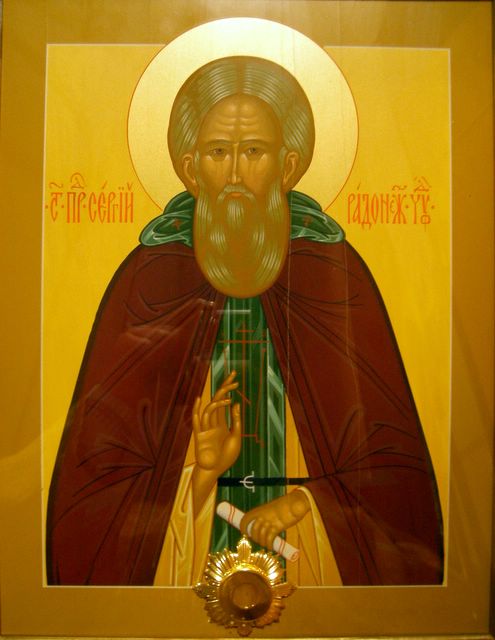 The Lord ties humility and meekness to inner peace, and of course such peace is synonymous with human well-being. A man can be rich, learned, powerful, he may be a hierarch, a priest or minister — whatever you like. But if he has no inner peace, he has no well-being. Contemporary life gives us many amazing examples of how people can obtain great heights in the political life, can become very rich, exceedingly rich, but cannot find this peace. Why is this? It is because we live in a world where sin exists, so that various feelings towards others prevail in the human heart.
For example, we are all familiar with the feeling of envy, which deprives a man of peace. The envious man seeks a way to punish the one who incites his envy, in order to deprive him of his property, his money, his family happiness or his honor among his friends. The activity of this striving demands action: We must establish some sort of plan. Perhaps it will be necessary to take along conspirators, to organize a whole strategy of attack. But where then is peace? There is only torment and woe! But if something goes awry, such people gnaw at their hands, wiping away evil tears.
And sometimes it happens that a man is not entirely envious, but someone else's life is simply displeasing to him. It seems to him that he is doing better than him at something. Once again the struggle begins, proceeding from secret intrigues to open deeds.
On the other hand, if we examine a usual human conflict, it sometimes happens that someone has insulted us, has spoken ill of us, expressed disagreement with us, or even conducted some sort of struggle against us. What do we normally do? We concentrate out powers on striking a blow to such a man, in order to weaken the threat that he poses to our activities. We connive, losing all peace. We search out people to join with us in our cause. This is sometimes done publically, and in our time we use methods of mass information to declare out position, entering in to fights and conflicts.
But all of this is what we mustn't do if we want to be happy. If we want to have peace, we must learn to leave our adversaries and enemies to the judgement of God. If we sense our own correctness, then first of all we should be most concerned in the dangerous circumstances of life to be convinced that only God is a consistent judge. He sees into the depths of the human spirit, and if some man or another really becomes our enemy, while we don't want this and don't give him any reason, then it will be necessary for us to pray mightily for this man, asking that God's judgement, and not man's, be carried out.
The judgement of God overtakes malefactors so quickly that we cannot even imagine it. But if there is a delay, then this is for our salvation, for our humility, for our patience. The most important thing for us is not to waiver. "If a man should fall into some sin, you who are spiritual correct such a one in a spirit of meekness." (Gal. 6:1) We have just now heard these words from the epistle of the Holy Apostle Paul to the Galatians.
And finally, we turn to today's Gospel reading: "Blessed are the poor in spirit." (Luke 6:20) This refers to those who are not directed by their own selfishness, but by the power of God; those who replace their own "I" with God, so that God stands at the center of their life. "Blessed are the meek. Blessed are those who weep. (Mat. 5:4-5, Luke 6:21) But nowhere is it written that he is blessed who knows how to defend himself, who knows how to deliver solid blows, who knows how to establish for himself a path to a prosperous life.
Meekness and humility are a great power, which not only helps direct the world according to the law of God, but also helps man obtain peace and, with that peace, health. What do people suffer from today more than anything else? From stress and from nervous disorders. But if we examine the source of these stresses (we won't need to go to any psychotherapist) we see that the cause of all of them is human sin, so that if there were no sin there would be no sickness. The contemporary world, today's human society clear demonstrates this link to us — among sickness we are also afflicted by sin.
St. Sergius gazes on us today from his icons, over the depths of ages, with his meek visage and, as it were, strives to show us how we must live. See, we come to his Lavra, we venerate his relics. We sense the help that flows from the saint. Let us also therefore trust in the sort of life that he lived, triumphing over enemies, humbling the proud and envious, strengthening the mighty ones of this world, and becoming, through his meekness and humility, a great spiritual leader of our people — not only for a generation that is separated from us by fourteen centuries, but also for the generation of the twenty-first century, which is made restless by sin.
The Church is a community that heals people, according to the example of Christ. The holy God-pleasers are examples of this health, which always glorifies a man through his victory over his own restless spirit. And may the Lord help us, inasmuch as we, gazing on the meek faces of the God-pleasers, have come to know the great and eternal truth: "Come to me and learn from me, for I am meek and humble of heart, and you shall find rest for your souls." (Matt. 11:29)
Amen.
Translated from Russian by Jeremy Boor