Summer is again upon us. We again start to dream of exotic vacations, foreign cities, singular experiences, new friends, and so on. We want to escape the mundane drag of our everyday lives and to discover the unknown, leaving behind everything connected with responsibility and work and enjoying the time just for ourselves.
The work-hard-play-hard paradigm has shaped us this way. We work, work, work and then, when we feel we can't take it anymore, we try to forget it all by going in the opposite direction, looking for increasingly extravagant forms of entertainment. This has been exacerbated as people, especially the younger generations, have moved towards seeking ever more extreme experiences: climbing vertical cliffs without ropes, crawling through mud under 10,000 volts of barbwire, bungee-jumping, and the like. In this rush of adrenaline we want to recuperate everything we think we have lost through being committed to a regular, boring life. Then the vacation ends and we have to leave the exotic place and go back to work until the next vacation. And the cycle repeats itself, bringing more dissatisfaction in the process.
This is a vicious cycle, however, since it condemns us to live in a state of continuous displeasure with the daily activities from which we cannot escape, our only hope being that one day we will be able to regain it all in a one-of-a-kind life experience. Unfortunately, it doesn't work this way. The daily displeasure of life takes its toll on us, a toll that we can't shake off with a foreign vacation.
So what should we do? Well, recently our lexicon has received a new entry, a word that opens novel possibilities: "staycation." Staycation, as defined by the Merriam-Webster dictionary, is a short vacation spent at home or nearby. In other words, rather than looking to escape to exotic places, you just stay at home and appreciate what you already have but are too busy to enjoy.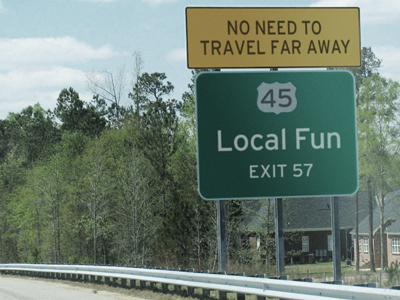 This is very similar to the universal Christian saying that you should "stop and count your blessings." Because we get so caught up in "life," we simply forget to stop, breathe, and look around us from time to time. The benefit of this simple exercise is that we can learn to appreciate what we already have.  There is no need to waste time, money, and energy chasing an illusion when we can learn to enjoy what we already have at hand.
Of course, I am not advocating that everyone should stay at home all the time, but short and frequent "staycations" can render all the struggle of life just a little more bearable.
This same concept can be easily be applied to our spiritual life. "Cradle" Orthodox Christians, for instance, are born into the faith and they grow in the practice of faith from a young age. Sometimes, however, this can become dull in itself: the fasting, daily prayers, and long services can take their toll on us. Oftentimes this leads people to look for "excitement" in other religions and philosophies or even in a more secular way of life.
This also applies to people who have come to the faith later in life through conversion. Most of them come to Orthodoxy because they are dissatisfied with their spiritual life in the denominations or groups to which they formerly belong. But after they have accepted and settled into the faith, there comes a moment when the reality of being Orthodox sinks in. They discover either that not even all Orthodox people are saints or that the practical aspects of being Orthodox can be quite difficult to manage. Once they begin to see the imperfections of their new faith, the temptation comes to look for something more fulfilling, perfect, and exciting.
We can apply the "staycation" idea to these two cases. Instead of looking for answers outside ourselves, what about taking a deep breath and going back to basics, looking for meaning where we already are? There are so many simple things we can do to rediscover the roots of our faith.
Spending time in a monastery can be a wonderful break from the dullness of life. Being in a place that radiates commitment, with wonderful people who are completely dedicated to the faith, can have a profoundly healing effect on our relationship with God. From the beautiful services and our conversations with the elders we can learn that our faith is something worth working for, despite the apparent difficulties. We might get advice about how to live a more organized and meaningful life in Christ that might make everything easier for us.
Sometimes we don't even have to go that far.  Participating in services that we haven't before attended, re-engaging in catechism, and enrolling in parish ministries might be just as fulfilling as going on a pilgrimage.
We might also consider opening up our hearts in the Sacrament of Confession and asking our own parish priest the questions that bother us. He may be able to help us either directly or by putting us on the right path to find the answers for ourselves.
But if all this still sounds too difficult, we can start by just increasing our time committed to personal prayer at home. Opening a conversation with God through worship may be all that is necessary to re-kindle our life in Christ. Once this happens, everything will start to make sense again and we will be able to fully re-engage in the life of the Church.
Not doing anything while dreaming of deliverance won't take us anywhere. Looking for meaning, right here and right now, may be all we need. Happy staycation to all!
Source: Gladsome Light Dialogues