On September 10, Bishop Artemy of Petropavlovsk and Kamchatka brought the icon to the base of submarine forces on the Pacific Fleet, which are based in the Rybchiy settlement.
On the parade ground in front of the headquarters, the icon was met by the commander, Vice Admiral Igor Muhametshin Timirbulatovich, and personnel of the squadron.

St. Sergius provides special protection not only for teachers and students, but also for the Christ-loving forces that venerate him. It was through his spiritual authority – and no one doubted his holiness during his lifetime – that it became possible to unite the fragmented princedoms. With the blessing of St. Sergius, our ancestors united into one army under the leadership of St. Dmitry Donskoi on the Kulikovo Field against the Horde. After seven centuries, the memory of the Venerable One, and his presence through the revered icon in many parts of our country from Kamchatka to Kaliningrad, also unites people of different professions, generations, and nationalities, reminding us of all the glorious pages of our common history and our traditional spiritual values.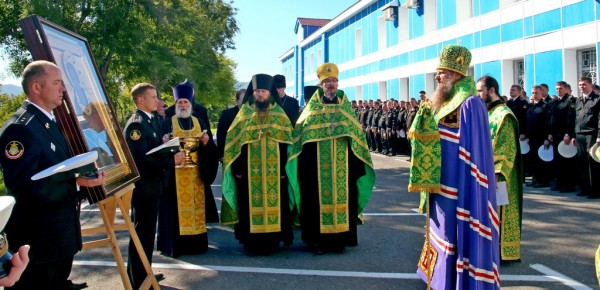 Bishop Artemy served a moleben [supplicatory service] before the icon of the Venerable One, and then addressed the military forces, together with the base commander of submarine forces on the Pacific Fleet.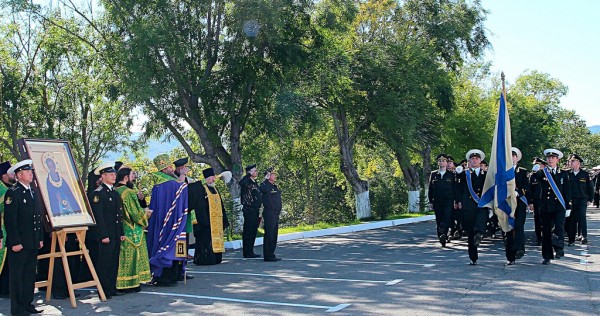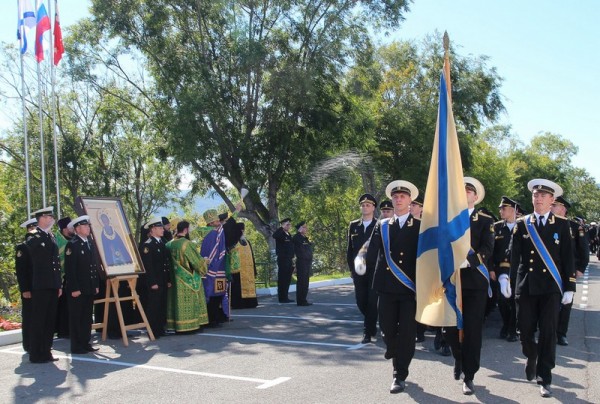 Sailors of the submarine squadron carried their banner and solemnly marched in front of the icon. After the official part, all could venerate the icon of St. Sergius. Bishop Artemy blessed every submariner with a small icon of St. Sergius.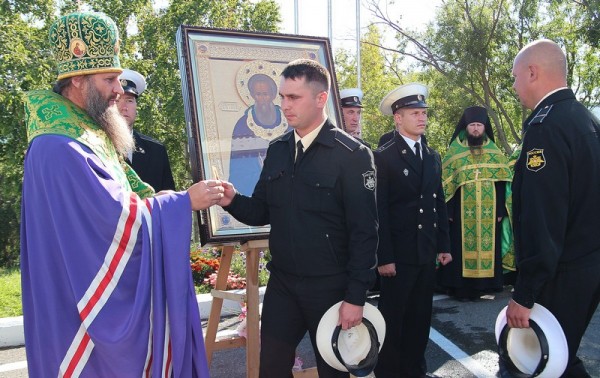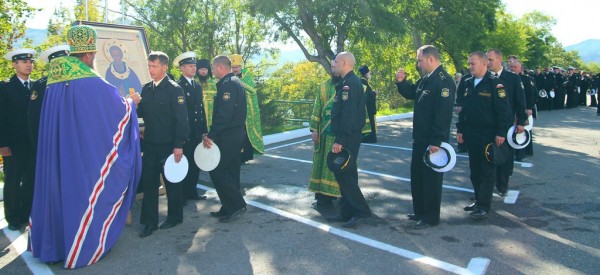 So that all the soldiers who are on combat duty would be able to see the icon and receive the Venerable One's blessing, the command decided that the image be taken on a military boat in the waters of Krasheninnikov Bay in which submarines and warships are based.
All crews standing on the ships and submarines could thereby receive the Venerbale One's blessing.
Venerble Father Sergius, pray for us! For the whole Russian land and the Christ-loving army!