July 13, 2013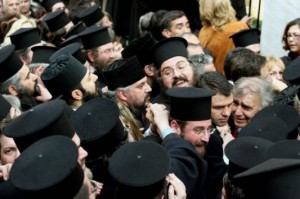 The Greek government is being squeezed by international lenders to slash the salaries of about 9,500 priests to meet demands from international lenders to keep reducing expenditures, which could lead to resistance from the Church and clerics. There is no separation of Church and State in Greece.
According to a report in the newspaper Parapolitika, representatives of the lenders revived the proposal that had been set in 2011 to the government of then premier George Papandreou, according to which the state should stop paying the salaries of priests or at best to share it with the Church.
The state puts up about 200 million euros ($216.36 million) to pay the salaries of the priests and there is confusion over whether the plan would reduce the state's share, or could lead to the Church having to decide whether to pick up the costs or start firing priests the same way the government is going ahead with a proposal to dismiss as many as 27,500 public workers.
Source: Greek Reporter