Foreword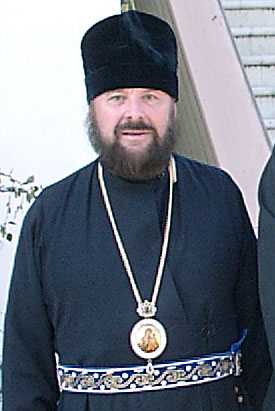 Since Christianity has been in existence for two thousand years, one might expect that the teaching of our Lord Jesus Christ would have been studied in depth, understood, and thoroughly explained by this time. However, the presence of so many sects of Christianity proves that this is far from being the case. While in most of the exact sciences knowledge has built upon itself, becoming universalized and communicable to those in its common project, it appears that the teaching of our Lord Jesus Christ becomes more and more fragmentary and distorted. The reason for this is not so much the difficulty of understanding the truths of Christianity as an unwillingness to grasp and accept what is most important in Christianity: why the Lord Jesus Christ came to earth, and what is the essence of His teaching.
Here, the reader may think that we ourselves are somewhat confused, for even children know that the Lord Jesus Christ came to earth in order to save mankind. His very name, Jesus, tells us this, since it means Saviour. The problem is that the meaning of this salvation cannot be understood outside the context of the Bible's teaching concerning the purpose of the creation of mankind.
Certainly, no one wishes to be condemned to hell. Everyone wants to enter the Kingdom of Heaven. It is crucial to understand, however, that the Kingdom of Heaven is not so much a place as a state. When the scribes asked when the Kingdom of Heaven would be revealed, Christ answered: "The kingdom of God cometh not with observation: neither shall they say, Lo here!, or Lo there! for, behold, the kingdom of God is within you" (Luke 17:20). Saying so, the Lord showed that salvation is intimately connected with a man's interior state. Salvation is not simply a move from the present conditions of life to different and better conditions; it is something more profound and wonderful. As Scripture says, "If favour is shown to the wicked, he does not learn righteousness; in the land of uprightness he deals perversely and does not see the majesty of the Lord" (Isa. 26: 10, RSV). In other words, even when his exterior conditions improve, the wicked man continues to be envious, hateful, and quarrelsome, for he is tormented by a thirst for sensual pleasures; thus, he bears hell in himself. True joy, peace, and blessedness are inner states that come to a man as a result of a relationship with God, which the unrepentant refuse and do not share in. The righteous man, no matter where he is, will always have the delight of communion with God, bearing paradise within himself.
It is very important to understand that the chief purpose of Christ's coming was not to give us living conditions that are better externally, but to restore the lost paradise within us. With this truth one holds the key to understanding Christianity. One will also be able to see for himself how Orthodoxy is superior to other faiths; for everything that the Orthodox Church holds and teaches is directed towards one end: union with God through moral renewal and deification.
In the present work, we shall show that the source of all the errors of heterodox churches is a formal and utilitarian concept of salvation, one separated from the struggle of inner renewal. The Lord is all-powerful; He can create whole worlds by His word alone —but He cannot save us without our active participation. Good and evil are states chosen by our own free will. You can give a student the most costly and up-to-date tools for learning, as well as the best teachers, but no one can give him knowledge and experience. He must force himself to study. Something similar takes place with many Christians. Despite the abundance of the means of grace offered to them, they do not grow spiritually. Not only do they show no growth, some even dare to alter the teachings of Christ to conform to their own laziness. Since most people prefer the path of least resistance, the doctrines of those who would "simplify" Christianity enjoy much visible success.
Foreseeing these things, the Lord taught believers not to be troubled by being a "little flock" that walks the narrow path, because it is the difficult path of spiritual renewal that leads to eternal life.
Wrong Ideas About Christianity
Many people are not aware that all contemporary heresies owe their existence to the Roman Catholic Church. The Orthodox Church in the East was continually being subject to oppression from Persians, Arabs, Turks, and other Eastern peoples, and thus compelled to fight off the pressure of heresies; meanwhile, the Western world was living a life of relative security and prosperity. Because of this, the vigorous spirit of the apostolic Christian Church waned gradually, giving way to formalism and ritualism. Salvation was no longer regarded as a path of spiritual renewal, but came to be seen as a reward for good deeds. The Roman Catholic Church came more and more to resemble an earthly institution, with a corresponding love of power, careerism, and intrigue. External acts came to take the place of an internal attitude; all the emphasis was placed on deeds and rites. The more good works a person did, the greater would be his reward. It was thought that the saints had accumulated such a store of good works that they possessed a surplus. The Roman Catholic Church began to preach that these "supererogatory merits" were held in its treasury, and that it could use this wealth and share it with other members of the Church.
Thus there arose the deformed doctrine of indulgences, with all its sad consequences for the Christian world. In order to collect money for the church's coffers, the absolution of sins — not only those of the past but those of many years in the future — was eagerly offered for sale. The more you paid, the more sins you would be forgiven. This monstrous deformation of Christianity provoked a reaction in the form of the Protestant Reformation. In heated battle against the Catholic Church, and in measure with its abuses, Luther fell into the opposite extreme: instead of the difficult path of salvation, he declared, "Works are not necessary at all; only believe, and you are saved." The great tragedy of Western Christianity was that neither Luther nor his followers were able to free themselves from the chief error of Catholicism: a formalistic concept of salvation. Replacing good works with faith in no way solved the problem, since the activity of spiritual renewal, the central teaching of Christ, remained lost from sight. The Roman Catholic Church lost the key to the understanding of Christianity, and Protestant theologians never succeeded in finding it. Asserting that anything besides faith is unnecessary for salvation, they locked themselves out from all the means of grace with which the Lord endowed the apostolic Church. The mystery of the sacraments, and thus the priesthood, were declared unnecessary for the renewal and salvation of believing souls.
It is alarming to observe how the non-Orthodox world is going farther and farther away from the Christianity of the apostolic Church, and its key of struggle. Many of the sects and cults of more recent origin go even farther than Roman Catholicism and Protestantism in their "consumeristic" attitude. For example, some Pentecostals and like-minded "charismatics" attach the greatest importance to artificially producing in themselves a state of rapture and ecstasy, or even uncontrollable laughter. They blasphemously call their disorderly shouts and inarticulate sounds "the gift of tongues," and regard their mediumistic trances as the descent of the Holy Spirit. This has the advantage of not requiring any effort to obtain a union with God. Others, aptly called "preachers of the gospel of greed," see Christianity as a means for attaining success in this life. "Just believe," they proclaim, "and your business will prosper, your love life will improve, you will have a wonderful family, and you will always be healthy, happy and full of energy." It is as if we have walked into a fashionable restaurant, so that each person can choose those items from the Scriptures, as from a menu, which appeal to his tastes.
Salvation is Spiritual Renewal and Becoming Godlike.
"Blessed are they which do hunger and thirst after
righteousness (dikaiosyn): for they shall be filled " (Matt. 5:6)
Our Saviour's teaching is illuminated by the biblical account of the creation of man. God was pleased to endow man, unlike the animals, with His own image and likeness (Gen. 1:26). "Image" and "likeness" are terms which are not synonymous. Image refers to the abilities or talents which God made part of human nature, including a sense of morality, the voice of conscience, an inclination towards good, a thirst for immortality, and the need to grow and be perfected spiritually. Likeness refers to becoming like God in His perfections. Whereas the image is an inalienable characteristic of our nature, the likeness is only a possibility, a potentiality. God is infinitely wise, good, and just. He desires that we, His children, acquire as much perfection in these qualities as possible. Of course, no one is able to become wise or virtuous in a single moment or by a single leap of the imagination. One must work on himself, be corrected and develop towards perfection. This was man's purpose at his creation, and it remains the same today!
Sin introduced disharmony into our nature. It became an obstacle on the path towards perfection. The poison of sin proved to be so powerful that no mere human being could rid himself of it by his own efforts. It was necessary for the Son of God to enter the world. He not only taught men how to live rightly, but took our nature upon Himself, and infused the decrepit human organism with a fresh stream of divine life; in this way He gave us the means of moral rebirth. Man's participation in the divine life is actualized in the Church. For this reason it is called the "body of Christ" (1 Cor. 6:15; Eph. 4:12).
The path of spiritual renewal begins with the Sacrament of Baptism, when a man is washed and freed from the poison of sin, and united with the grace of God. He is taken out of the world which lies in evil, and brought into the fold of the Church. The Lord Jesus Christ and His Apostles always contrasted the Christian life with worldly life, the life of the "world which lieth in evil." "Be not conformed to this world: but be ye transformed by the renewing of your mind, that ye may prove what is … [the] will of God," teaches St. Paul the Apostle (Rom. 12:2). The grace-filled power of baptism is so great that one who is baptized becomes, as it were, a new creature. "If any man be in Christ, he is a new creature: old things are passed away; behold, all things are become new" (2 Cor. 5:17). Through baptism a Christian dies to all that is sinful. By becoming a partaker of the renewing power of the Saviour's sufferings on the Cross, he dies to sin and begins to live a righteous life. "God forbid that I should glory, save in the Cross of our Lord Jesus Christ, by Whom the world is crucified unto me, and I unto the world," wrote the Apostle Paul. "For in Christ Jesus neither circumcision availeth any thing, nor uncircumcision, but a new creature" (Gal. 6:14-15). From this moment the Christian experiences a complete reevaluation of values. He begins to desire and seek what he used to despise, and to despise what used to enthrall him.
Sacred Scriptures calls this change a"passing from death to life" (cf. John 5:24; 1 John 3: 14) and "being risen with Christ" (cf. Col. 3:1-17). God moves a man out of the realm of darkness into the kingdom of light, where he is illumined by the Holy Spirit (1 Pet. 2:9-10). It is in this context that our Lord Jesus Christ calls upon us to "let your light so shine before men, that they may see your good works and glorify your Father Which is in heaven" (Matt. 5:16).
There is nothing in all the world higher than the calling of a Christian. St. Peter the Apostle encourages believers with these words: "Ye are a chosen generation, a royal priesthood, a holy nation, a peculiar people; that ye should show forth the praises of Him Who hath called you out of darkness into His marvellous light: which in time past were not a people, but are now the people of God: which had not obtained mercy, but now have obtained mercy" (1 Pet. 2: 9-10). And St. Paul says: "Ye were sometime darkness, but now are ye light in the Lord: walk as children of light; (for the fruit of the Spirit is in all goodness and righteousness and truth)" (Eph. 5:8-9).
Of course, all this presupposes irreproachable morality and a closeness to God. "Be ye holy; for I am holy" (1 Pet. 1:16; Lev. 11:45). Holiness is given by a gift of the Holy Spirit, but each Christian must guard this gift and increase it in his own life. "Follow peace with all men, and holiness, without which no man shall see the Lord" (Heb. 12:14).
The Gospels and the letters of the Apostles are unanimous in calling all to become more and more like God in His moral perfections. "Be ye therefore followers of God, as dear children" (Eph. 5:1). More concretely, we are required to follow the incarnate Son of God. Our ideal is to become Christlike, or, so to speak, to clothe ourselves in Christ. "For as many of you as have been baptized into Christ have put on Christ" (Gal. 3:27). Therefore, the Apostle teaches: "Let this mind be in you, which was also in Christ Jesus" (Phil. 2:5). "He that saith he abideth in Him ought himself also so to walk, even as He walked" (1 John 2:6). And he writes, "I beseech you, be ye followers of me, even as I also am of Christ … For who hath known the mind of the Lord, that he may instruct Him? But we have the mind of Christ" (1 Cor. 4:16; 11:1; 2:16).
The more a Christian struggles and receives grace to become like his divine Prototype, the deeper his mystical union with Him. The Lord Jesus Christ said, "If a man love Me, he will keep My words: and My Father will love him, and We will come unto him, and make Our abode with him" (John 14:23). The goal is to become "partakers of the Divine Nature" before our death (2 Pet. 1:4).
This goal is such a lofty one that a man is naturally afraid of it at first; he considers it unattainable. Yet God helps him on the path to perfection and gradually leads him up higher and higher, towards Himself. This is why the Sacred Scriptures often compare the Church to a lofty mountain (cf. Ps. 2; Isa. 2:2-3; 11:1-10; 26; Dan. 2:34). When someone becomes a Christian, he starts to climb the foot of the mountain. The rest of his life is one long ascent of a stairway or ladder of perfection. At its very summit is the Lord, surrounded by a multitude of saints. In this context we can understand the meaning of St. Paul's words, when he writes to Christians: "Ye are come … to the general assembly and church of the firstborn, which are written in heaven, and to God the Judge of all, and to the spirits of just men made perfect" (Heb. 12:22-23). These words are noteworthy, because they provide an assurance that moral perfection is attainable, although dependent upon the capacity of our human nature.
Thus, these and many other passages in the Bible are convincing evidence that salvation is inseparably connected with a process of spiritual renewal. Paradise is, first of all, the state or condition of a soul that has been restored. God in His mercy calls us to His heavenly kingdom; it is up to us to make the effort to reach it. Therefore, "Seek ye first the kingdom of God, and His righteousness; and all these things shall be added unto you" (Matt. 6:33). "For we are made partakers of Christ, if we hold the beginning of our confidence steadfast unto the end" (Heb. 3:14). God has called us to be His children. Truly, He desires that we acquire a likeness to Him, for He has appeared on earth, to restore the God-like image in us that was darkened. Sin led us astray, deep into the path of perdition, but Christ helps us to return continually to the right path, the path that leads to salvation. Therefore, Christianity is not so much a teaching or a theory as it is a path, a way of life.
When one has understood this, one is opened to the logic and wisdom of all that constitutes the distinctive aspect of Orthodoxy: its teachings about asceticism and abstinence; its sacraments, fasts, feasts, and church services; its ecclesiastical architecture, chant and art. All of these things are aids on the path to spiritual perfection. As is said, "Prove all things; hold fast that which is good" (1 Thess. 5:21).
Some people — usually those whose attitude toward Christianity is simplistic and formalistic — may find what we are saying here to be new and even strange. They may ask, "If you have to strive and struggle to become perfect, what happened to salvation by faith and the grace of Christ?"
Such confusion can be cleared up quite easily. We are in no way lessening the importance of faith or grace; on the contrary, we are making clear the absolute necessity of these things. This may be illustrated by the following example. Suppose a wealthy philanthropist decides to offer a poor barefoot lad from some jungle the opportunity to study at a most prestigious and expensive school. He takes it upon himself to cover all the expenses connected with this endeavour: the cost of tuition, housing, meals, textbooks, computers, laboratory equipment — anything that is needed. The educational institution boasts the most favourable conditions for learning the student could desire. A splendid career awaits this student after he completes his studies. All he has to do is to take advantage of the philanthropist's kindness and not to be lazy; after all, no one can cram knowledge into his head by force. Without the student's own personal efforts, all the good intentions of the philanthropist will come to nothing, and the idler can only go back to his jungle.
In the same way, the grace of Christ gives us everything necessary for salvation as a free gift, without any merit on our part. God forgives us our sins because Christ suffered for them on the Cross. God renews our souls, heals the wounds of our passions, enlightens our minds, calms our hearts, and spiritually strengthens us. He takes us by the hand and helps us at every step of the way. He cannot, however, without violating our freedom, compel us to be virtuous. For this, our own will and effort are necessary. All the writings of the New Testament serve to explain this concept.
Someone may ask, "What about the Thief? He was saved without any labours; he simply sighed in repentance." It must be understood that God has established for each man his own level of perfection. Even some pagans will be saved, inasmuch as they acted in accordance with what their consciences told them (see Rom. 2:14-16). At the same time, it must not be forgotten that "unto whomsoever much is given, of him shall much be required" (Luke 12:48). If anyone thinks that Christianity is too difficult, let him at least not complain about God's mercy.
Christianity is remarkable for the fact that it opens up to man unlimited spiritual possibilities. Not only does it offer him the privilege of becoming a child of God, it also enables him to grow to resemble his Father. At the same time, it does not dictate that a man follow a particular type of life; it does not demand impossible feats of endurance.
To each person it offers the freedom to grow as much as he wishes. If you think that it is too difficult to obtain a doctoral degree, at least try to get a bachelor's degree. If this seems too hard, then finish high school. Is high school too much for you? Get through elementary school, or at least first grade. Just don't remain idle; don't bury the talent of faith. Even if you are unwilling to make the slightest effort to improve yourself, at least humble yourself before God and tell Him you are sorry for being lazy. There is only one thing I would ask of you: Do not debase the teachings of Christ; do not say that you are already saved and have no need to strive towards perfection — for struggle is the very essence of Christianity!
In the chapters that follow, we wish, with God's help, to develop the thoughts we have touched upon here. We would like to speak about what constitutes spiritual striving towards perfection, what obstacles a Christian must overcome in order to attain it; what connection there is between God's grace and man's personal efforts, and what is the source of our joys and sorrows along the path to reach the kingdom of heaven.
To be continued
Source: www.fatheralexander.org/